AudioRaiders has invaded Sasha's studio to bring you the first collection of sounds and software instruments that truly capture the heart and soul of one of electronic dance music's most iconic producers. This is not just a sample library. You can customize every sound and loop to fit your style.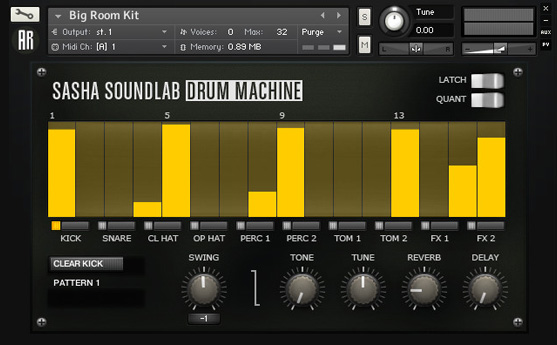 Audioraiders call this collection of sampler instruments a "Soundlab" because it contains all the elements you need to make a complete music production. It's much more than a traditional sample library. The sounds are
extremely playable and will inspire you to make music right away. The Soundlab can be used by DJs looking to add some fresh sounds and grooves over their mixes (see the tutorials coming soon) and also by music producers that want to add the kind of sounds that usually only come from big studios loaded with expensive gear.
Not Just A Sample Library
Any successful producer will tell you that you'll never create a chart-topping song by simply layering stock samples on top of each other. You need to customize and create your own style. That's exactly what Sasha Soundlab lets you do.
– Modify pitch, envelopes, velocity and filters.
– Shape sounds with real-time multi-effects.
– Use the Glitch Machine to add dynamic fills and transitions.
Who Is It For?
This is a powerful tool for DJs, dance music producers and composers of all levels – whether you want to crack the Beatport Top 10, create an authentic club track for a film score or add original music to your mix.
– 20 pad and lead synths
– 69 drum and percussion kits
– 100 customizable loops and grooves
What You'll Get!
Hundreds of amazing sounds, made by Sahsa himself, using racks of gear most of us can only dream of owning.
– Samples processed through stomp boxes, tube pre-amps and more.
– Drum machines loaded with grooves that will instantly rock the dance floor.
– Classic step sequencer
Sasha Soundlab is fully compatible with Logic, Ableton, Cubase, ProTools, Nuendo and more. Available as a standalone KONTAKT PLAYER Instrument as well as VST and AU and RTAS Plugins. Introductory price is set at $99,-