Akai Professional, the name synonymous with music production, introduces MAX49, a revolutionary USB/MIDI/CV controller for use with virtually any MIDI or Control Voltage hardware and MIDI software.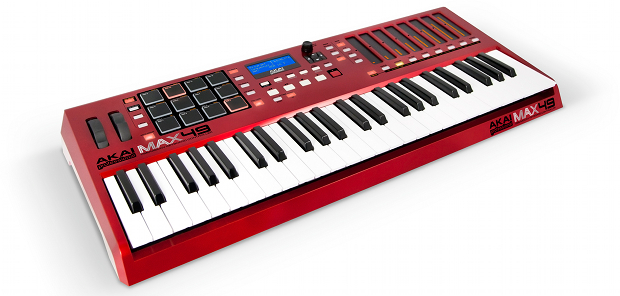 With an intuitive layout and the included AkaiConnect automatic-mapping software, MAX49 offers a fully immersive experience with virtually all VSTTM plug-ins and music software. From its 49 semi-weighted keys and 12 real MPC pads, to its groundbreaking LED touch faders and vintage CV & Gate outputs, MAX49 combines cutting-edge Akai Pro technology with classic capabilities, to deliver an unprecedented music-making experience.
MAX49 represents the state of the art for keyboard controllers. It's an instant standout due to its most distinguishing feature: four banks of eight backlit LED touch faders, allowing the assignment of up to 32 control parameters. These striking LED touch faders can be used like analog faders by simply dragging a finger along the strips, or musicians can perform instant leaps in any MIDI value from zero to maxed out—an unparalleled keyboard controller capability.
Equipped with four banks of 12 backlit MPC pads, MAX49 provides a total of 48 assignable pads, allowing for the integration of legendary Akai Pro production capability into live performances and recording sessions alike. These velocity sensitive pads come with classic MPC Swing, Note Repeat, Full Level and navigation controls to allow musicians to create music at the highest level.
MAX49 comes ready to command any controller hardware or software from any era: USB MIDI, traditional 5-pin DIN MIDI, as well as Control Voltage and Gate outputs give users the ability to control everything from today's most advanced music software, to analog modular synths from as far back as the 1960s. Mackie Control and HUI protocols also give instant compatibility with many industry standard DAWs.
Naturally, MAX49 delivers all essential controller features at the highest level. 49 semi-weighted keys with Aftertouch are onboard, providing professional feel, perfect response and full musical expression. Large, centrally positioned transport controls offer straightforward track navigation, while rubberized pitch and modulation wheels provide for creative flourishes. MAX49's expanded arpeggiator includes a latch button as well as eight different time divisions to create sweeping and endlessly varied melodic cascades. A built-in step sequencer allows musicians to bring their music from concept to reality with exacting detail.
Included AkaiConnect automatic-mapping software allows users to be up and running in their favorite DAW and VST plugins in seconds, eliminating the guesswork.
"MAX49 combines cutting-edge innovation with classic capability," said Dan Gill, Akai Professional Project Manager. "Musicians are going to love it—MAX49's capabilities are off the charts."
MAX49 is expected to be available from musical instrument retailers in Q2 of 2012 with an MSRP of 479,99 €.