The Mackie DL1608 redefines live mixing by combining the proven power of a full-featured digital mixer with the unmatched ease and mobility of an iPad.® With 16 boutique-quality Onyx mic preamps and the performance of 24bit Cirrus Logic® AD/DA converters, you have unparalleled sound quality. Seamless wired to wireless iPad control means you can mix from anywhere in the venue. This gives you the mobile freedom to control not only the mix, but also powerful plug-ins like EQ, dynamics, effects and more. The sleek DL1608 even supports up to 10 iPads. Forget bulky consoles and racks of gear. The power is at your fingertips.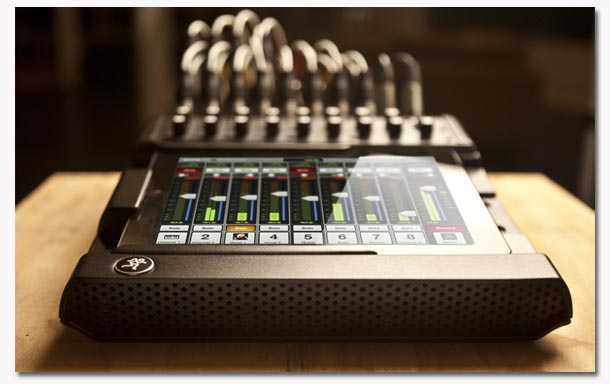 With the Mackie DL1608's seamless wired to wireless mixing capabilities, you can mix in real time from anywhere in the venue on your iPad®*. The bar, the bathroom, the back closet. Instantly adjust mix functions from tuning front of house trouble spots to ringing out stage monitors.
Designed specifically for the iPad, the DL1608's Master Fader™ app brings groundbreaking DAW mixing features and functionality to the live environment. With this intuitive breakthrough app, you can create mix snapshots, channel presets and even record stereo tracks straight to your iPad. Plus, with "Grow and Glow" giving you visual indication of the function you're controlling, you can be confident that you're always in control.
By combining 16 of our flagship Onyx mic preamps with the performance of 24bit Cirrus Logic® AD/DA converters, the Mackie DL1608 delivers unparalleled sound quality. Add to that eight balanced outputs, and you have a mixer that not only provides incredible dynamic range, fidelity and transparency, but also great versatility and outstanding value.
The DL1608 is loaded with a choice of powerful plug-ins on every channel, so you won't need to set up additional racks of outboard gear. With just the touch of a finger, you have total control over 4-band EQ, compression and gate plug-ins. Plus, sweeten your sound with a full-featured reverb and tap delay or adjust your mix to the room with the 31-band graphic EQ and limiter on the main and aux outs.
Supporting up to 10 iPads simultaneously, the Mackie DL1608 allows multiple engineers to control the mix. Plus, it gives band members the ability to adjust their own monitors. We're looking at you, lead guitarist. Now, the band can dial in the mix they want to hear in real time right on stage.
Put the Sharpie® away and use your iPad camera to snap quick pics of the band members or their gear for customized channel ID. Face it, that's pretty cool.
The sleek and low profile 16-channel Mackie DL1608 is rooted in design innovation. Its powerfully small format destroys the industry's notion that "bigger is better" by allowing modern technology to eliminate the need for bulky boards and racks of gear.