Gemini is pleased to announce they have recently started shipping the CDJ-700, a groundbreaking professional DJ media player that incorporates the industry's first full-color touchscreen display. The unit also features MIDI capabilities and supports playback from CDs, SD cards and USB memory devices, making this one of the most versatile DJ solutions available.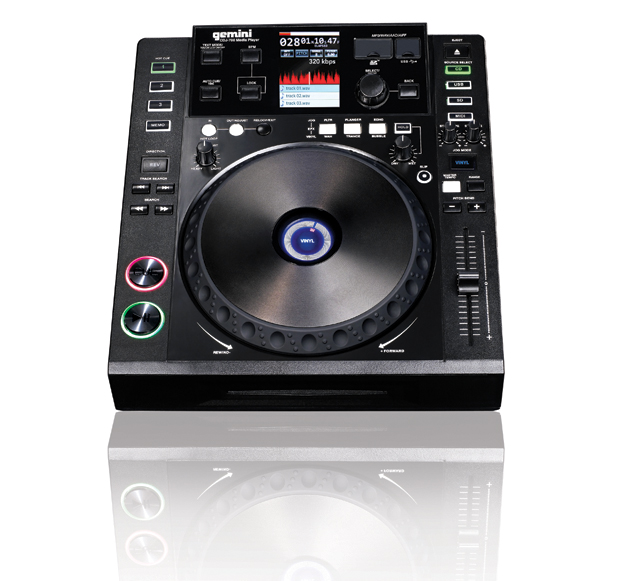 Boasting a unique level of tactile control, the CDJ-700's revolutionary touchscreen lets users navigate between folders and tracks, adjust tempo, and set effect values with the touch of a finger. The player also sports an 8-inch, touch-sensitive jog wheel with LCD display, resistance control, and three selectable modes for operation of Search, Pitch Bend and Scratch.
The CDJ-700's ultra-precise Pitch Control slider allows fine-tune pitch manipulation, while Master Tempo mode enables tempo adjustment without changing the original pitch of the song. Three programmable Hot Cues, a Loop section and DSP effects also give users total creative command, and a USB Out with MIDI capabilities ensures the CDJ-700 can be used as a software controller.
"Simply put, the CDJ-700 is Gemini's most powerful, versatile and comprehensive media player to date," says Alan Cabasso, President of Gemini. "This is a professional DJ solution with contemporary features, vinyl-like feel and an innovative touchscreen that employs the same intuitive controls found on smart phones and tablets."
Inspired by the latest technological trends, the CDJ-700 literally puts the future of DJ control right at your fingertips. For full details about this industry-changing media player, visit geminidj.com/cdj-700.