Arturia announces the release of SPARK Vintage Drum Machines, a software that brings 30 legendary drum machines to the musician. Intuitive and powerful, Spark Vintage Drum Machines is much more than the typical sample players available on the market. By mixing high quality samples and virtual analog synthesis (based on TAE®), this software manages to capture the unique soul of these instruments.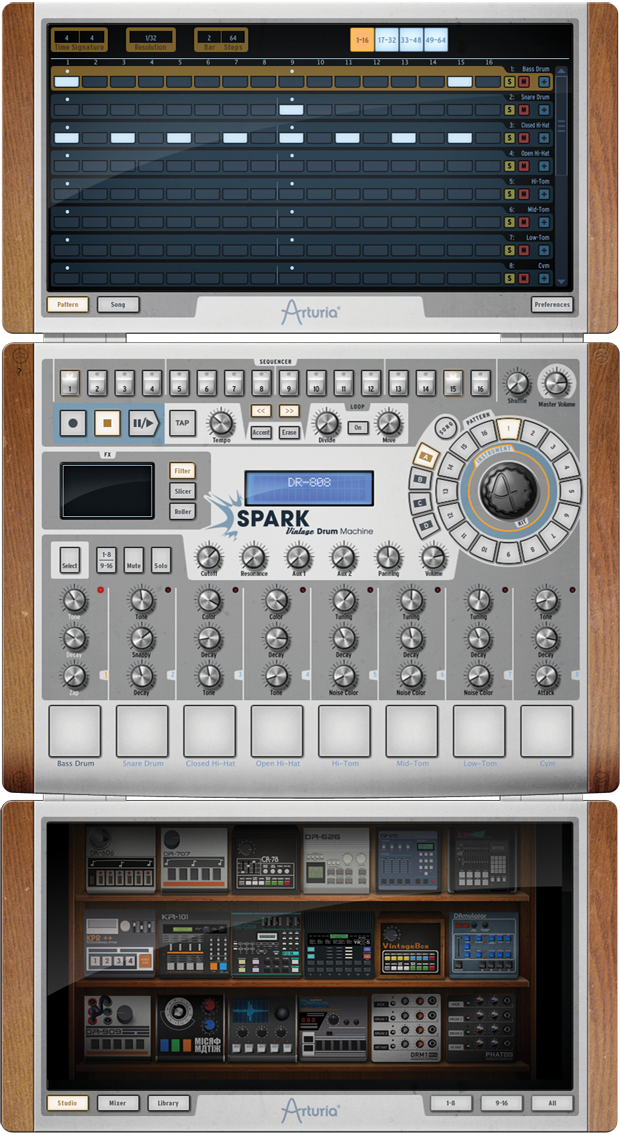 From the classic percussion sounds of the Roland CR-78 and Korg Mini Pops 7 to the legendary punch of the TR-series, all the iconic models are available in one single easy to use interface. Add to this in-depth tweaking possibilities, lightning-fast workflow and the live features of Spark, and you get a must have solution for every demanding beat maker.
Main Features:
30 different drum machines: Roland TR-808, TR-707, CR-78, Korg KPR 77, Mini Pops 7, LinnDrum, Yamaha RX5, Maestro Rhythm King MRK2, Simmons SDS,…

Easy workflow: one interface to learn, thirty drum machines to play

Made for live performance: XY Touch Pad, Beat Looper, Slicer, Real-time automation on all parameters

14 high quality Effects : Multiband Compressor, Reverb, Bit crusher, Multiband EQ, Chorus, Delay, Distortion, Phaser, Plate Reverb, Destroyer, Flanger, Space Pan, Limiter, Sub Generator

Spark's Step Sequencer makes track creation a breeze

Perfect integration: 16 independant audio outputs, midi I/O

Unparalleled sound quality based on virtual analog synthesis (TAE®) and high resolution sampling

64 patterns pre-programmed for each drum machine
Drum machine engines
TAE ® engine: Roland CR-78, Roland TR-808, Roland TR-606, Korg Mini Pops 7, Korg KPR-77, Ace Tone Rhythm Ace FR-2L, Yamaha MR10, Maestro Rhythm King MRK2, Boss DR-55, Casio VL-Tone and SK-1, Simmons SDS, Phatwerk, Micromatix.
Sample based and Hybrids: E-mu SP-12, Roland TR-909, Roland TR-707, Roland TR-727, Roland TR-626, Roland R8, E-mu Drumulator, Oberheim DMX, Sequential Circuits DrumTraks, Kawai R-100, LinnDrum, Linn 9000, Casio RZ-1, Yamaha RX5, Pulsator, Dirty-909.
EUR 119/USD 129