DJ Rig for iPhone/iPod touch is now available on the iTunes app store. The full-featured, double-deck DJ mixing app that provides instant song-playing from your music library, automatic tempo sync and beat match, sample-based pads and performance recording, plus an arsenal of high-quality DJ effects. When used with the new iRig MIX audio mixer for iOS devices, DJ Rig provides the most portable professional setup for mobile DJs and musicians. DJ Rig is available for a limited time at the introductory price of only $1.99/€1.59 (a 60% discount on its regular $4.99/€3.99 price).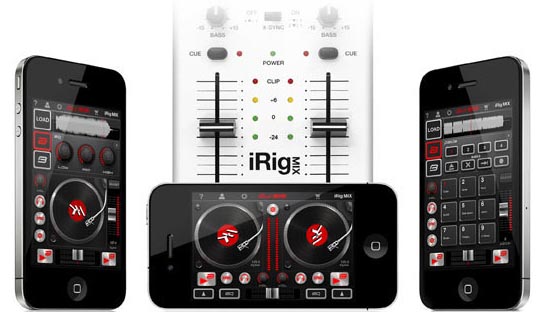 Pro-DJ Features In DJ Rig
DJ Rig has many professional features not found in other DJ apps like its unique beat match (so you can sync beats and not only tempo), its selection of up to 12 high-quality DJ effects with XY touch control interface, its 9 sampling pads with up to 15 built-in banks and live sampling capability, multiple cue points, crossfade curves and X-Sync for syncing external audio material when used with iRig MIX.
12 High Quality Effects In DJ Rig
DJ Rig offers more DJ effects than any other iOS app, with more control thanks to its XY touch interface. Choose between Delay, Flanger, Crush, High Pass, Low Pass, Band Pass, Compressor, Wah, Phaser, Fuzz, Reverb and Stutter, with all effects BPM synced. Add an extra filter to most of the effects and dedicated controls and you will have the most powerful DJ FX station ever seen in an iOS device that stays on par with the most sophisticated Mac/PC DJ software.
Sampling Machine with Live Sampler
For truly creative performances DJ Rig has an on-board 9 pads sampler that can control its built-in sound banks (up to 15) or can be used for live sampling with the integrated pitch control.