Anymix is a first of its kind up- and downmix plug-in with integrated panning capabilities, released today by 3D audio company IOSONO. Anymix not only creates realistic surround mixes by using the IOSONO upmix engine, but gives the mixing engineer full control over a multitude of adjustable parameters such as Ambience, Stage Width and Dry/Wet signal, enabling a peerless natural flair of the surround mix. The plug-in comes with a broad selection of up- and downmix preferences tailored to be used in post-production, broadcast, music and game sound design. Plus, Anymix offers a wealth of features for individual panning, such as EQ and distant-dependent loudness settings, turning the mix into an ultra-realistic surround scenario.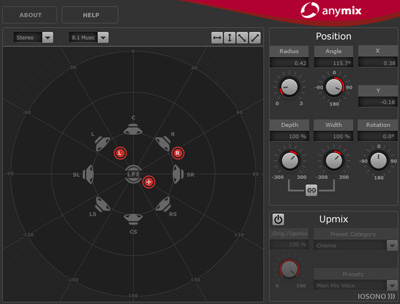 Anymix can be used to convert any input setup from mono to 8.1 to any output format from stereo to 8.1 and vice versa. In addition, the included surround panning mode offers deep control of channel positioning within the surround field, allowing precise movements of all surround channels. Even single sources can be dissolved from the multichannel setup and freely positioned within the listening space.
Anymix is available in VST and RTAS format. It comes in two versions, Anymix Essential (EUR 159) and Anymix Pro (EUR 299) and is obtainable through IOSONO's online shop at www.iosono-sound.com. An introduction offer is running until March 31, granting a discount of 50% on standard pricing. A free 30 day trial version of Anymix is available on the IOSONO website.
Anymix will be presented at Musikmesse 2012. Europe's leading trade show for music software, audio hardware and musical instruments is taking place in Frankfurt, Germany from March 21 to 24. The IOSONO booth No. is B72 in hall 5.1.