With a unique sound generator at its heart, and the tools to add unprecedented movement and evolving changes, BLADE is an additive synthesis engine that has an individual character and flexibility never seen before in a software synth.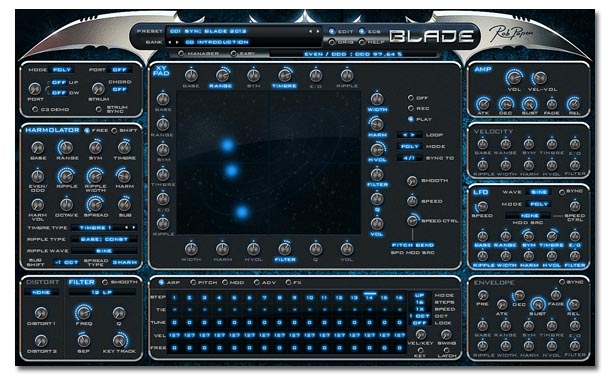 The Harmolator
The power of Blade lies in the Harmolator – a set of global controls that get to the heart of the synthesis engine without the need to edit the additive partials that make up the waveform.
The Harmolator allows oscillator spreading, fattening the sound and also square / sine wave sub-oscillator. What´s more, the sound can be modified further by the 21 per-voice distortions types and 14filter types allowing you to create a vast range of sounds.
The XY screen
Blade offers total control of the sound over time using an array of different modulation controls. The most significant of these is the central XY screen.
Here you can either alter things directly by moving the cursor around, or you can record paths which can be replayed, thus creating an incredibly advanced LFO.
Features:
16 voices, operating in poly , mono 1/2 , legato 1/2 and arp modes.
Harmolator Oscillator with 9 controls, harmolator wave settings, two types of spread functions and extended sub-oscillator.
21 Distortion Units operating per voice (ahead of filter).
14 Filter Types including 6/12/18/24 low/high pass, 12/24 band pass / notch, vocal & comb filter.
Filter separation function for unique filter stereo soundAmp section with Volume, Velocity and Envelope control.
XP Pad with 12 amount controls for each X and Y, which can modulate the 9 Harmolator parameters, Filter Cutoff, Filter Q and Volume.
XY Pad which can operating either directly or with recorded paths, in poly, mono or free modes.
XY Pad playback can be tempo synced, with different tempo settings, and with loop & bi-directional loop options.
XY Pad movement speed control.
XY editing options at right mouse menu
Dedicated Harmolator velocity, LFO and envelope controls.
Pitch LFO and Pitch Envelope, 2 Free Harmolator control sources, 2 Free Envelopes, 2 Free LFOs and 4 modulation sources.
All of Blade's controls can be used as modulation destinations, and there are a full range of modulation sources including midi controls and internal controls.
2 FX units with 27 effects, including distortion, reverb and tape delay plus many more.
16 Step Arpeggiator with each step having its own pitch, velocity and free amount, which can also be used as a sequencer for modulation purposes.
Easy Page allows control of the main parameters in a flexible and easy way.
Preset handling with copy, paste, clear and compare function.
'Quick Browser', 'Recently Browsed' and 'Favorite' functions.
Preset Manager screen allows you to easily find and organize presets and banks.
Full midi control over all parameters included the X/Y Pad.