Crysonic today released the first details about their upcoming product INPRESSA. Providing Zero Latency, Stereo & Mono compatibility together with a unique proprietary Technology provides flexibility and total creative freedom. Transcending other similar plugins of it's type, INPRESSA is set to achieve Vintage and Modern sounding professional results on individual busses and the final Master Mix. INPRESSA has full Double Precision Processing natively which employ very Steep 24 dB/Oct crossover filters virtually eliminating leakage into adjacent compression bands. All available parameters are variable supporting full automation with extreme precision control.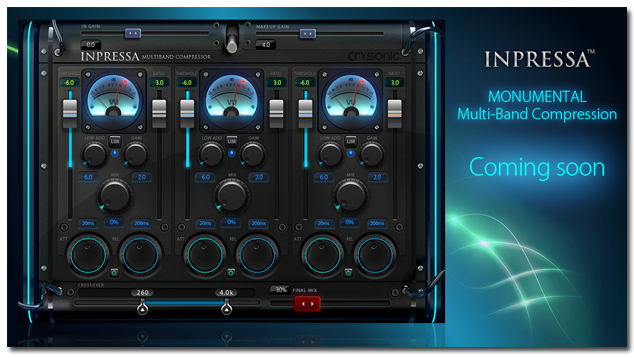 INPRESSA, amongst other unique features automatically chooses the most appropriate peak detection circuit depending on the audio material being worked on previously impossible to do unless you have a countless number and flavor of 'expensive' compressors.
The most noteworthy part of INPRESSA is expressed not only by employing a new state of the art technology but understanding and providing incredibly efficient workflow without crowding the interface with 'most of the time unnecessary' options.
INPRESSA will be available on the 21st of May 2012, for further information including release date, Demo and Pricing please visit crysonic.