Native Instruments today introduced PLATINUM BOUNCE, a new MASCHINE Expansion featuring a versatile toolbox for producers working in the area of contemporary urban club music. For instant use with MASCHINE or MASCHINE MIKRO, PLATINUM BOUNCE was created by cutting-edge music producers and sound designers – processed to achieve the distinctive upfront sound of contemporary hits for the radio and the hottest clubs.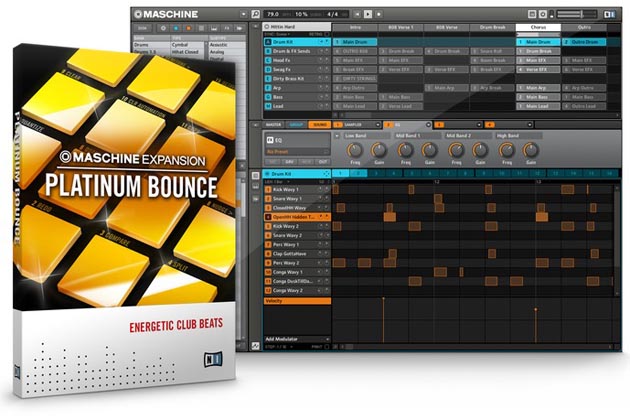 PLATINUM BOUNCE delivers kits, instruments and pre-programmed rhythms for producers of hip-hop, dirty south beats, RnB, crossover club anthems and any other type of urban-based popular music. 45 different kits provide a well-rounded selection of hard-hitting drum sounds, as well as 8 melodic kits containing harmonic one shots and effects. In addition, the 54 instruments of PLATINUM BOUNCE feature unique pads, leads, keys, organs, and basses, with many of them derived directly from classic synths such as the Minimoog, Oberheim SEM, and Jupiter-6, among others.
Following on from the highly popular SWAGG CITY Expansion for iMaschine, all kits and instruments, pre-programmed rhythms and projects of PLATINUM BOUNCE serve as ideal starting points for new tracks, or inspiration for up-to-date remixes. All styles vary from half time 65 BPM beats to pounding electro rhythms at 120 BPM. A compact version of PLATINUM BOUNCE is also available for iMASCHINE – the groove sketchpad for iPhone® / iPod touch®.
Additional information on PLATINUM BOUNCE is available at
www.native-instruments.com/platinumbounce