Open Labs, the industry leader and pioneer for nearly a decade in all-in-one music production workstations and live performance software, is proud to announce Music OS™ 3.2 UPDATE. Music OS 3.2 delivers enhanced playback and live performance features tailored specifically for the 'live' musician. Playback or 'backing tracks' are now a common instrument for live musicians and have been recognized as an essential tool when trying to reproduce recorded material live onstage. Playback consists of prerecorded tracks ranging from a basic 'click track' to an entire performance including lead vocals, guitar parts, drums and much, much more.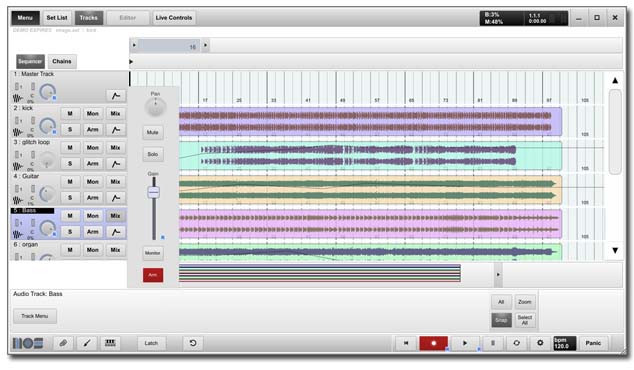 Music OS 3.2 makes playback EASY, STABLE and AFFORDABLE for all performing musicians. Music OS 3.2 also comes packaged with over 1,000 high quality sounds, loops, and presets including, Native Instruments Elements and Open Labs' VST Suite Library.
NEW Music OS 3.2 Features Include:
• Auto Play – can be set to automatically enter 'Play Mode' when selected or triggered by a midi CC or patch change command
• Multi WAV – allows users to load multiple WAV files simultaneously for faster audio importing and session setup
• Follow Me – a live playback screen scrolling feature locks center position on the timeline for performers and directors
• Cue It – jump from one timeline location or marker to another one instantly for seamless playback and song navigation
• MP3 Importing – users can now import MP3 files onto an audio track for simple playback and performance
Availability and Pricing:
Music OS 3.2 is now available for $299/USD. Current Music OS owners will receive the 3.2 update for FREE. RiFF owners will receive special upgrade pricing throughout the month of June for $99/USD. Please check with Open Labs directly for special discount codes and additional upgrade options.