Hook up with Slash! Now you can with AmpliTube Slash, the official definitive virtual collection of Slash's Signature guitar gear on your iPhone, iPod touch, iPad and Mac/PC.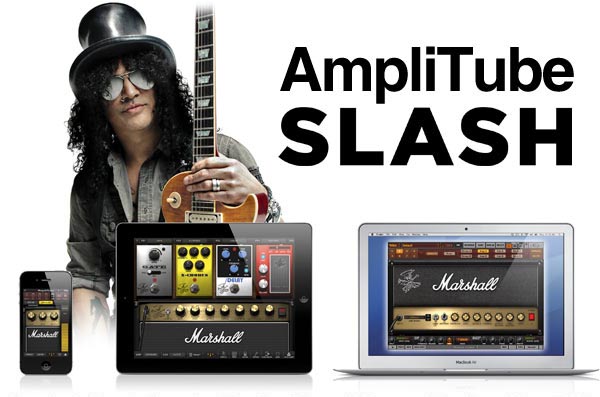 AmpliTube Slash comes with two Slash amps, the Marshall® JCM Slash Edition Silver Jubilee and the Marshall® AFD 100 with matching cabinet, plus 6 signature Slash signature stombox effects — Delay, Gate, Octave/Fuzz, Chorus, Booster and Wah/Distortion, and is available as:
– Standalone app for your iPhone or iPad
– In-app purchase in your AmpliTube for iPhone or iPad (updated!)
– Inside AmpliTube Custom Shop for Mac or PC
Here is how to connect with Slash on your iPhone, iPod touch, iPad and Mac/PC:
iRig – The #1 Guitar interface adapter for iPhone/iPod touch/iPad
iRig STOMP – the world's first stompbox style guitar interface for your iPhone/iPod touch/iPad, coming soon! Pre-orders opened!
iRig MIDI – Control parameters and buttons on all Slash's gear on your iPhone/iPod touch/iPad, with your existing MIDI controller.
StealthPlug – The guitar/bass USB audio interface cable for your Mac/PC – now also working with AmpliTube for iPad using the Apple Camera Connection Kit!
StealthPedal – The Wah-style USB audio interface and controller for Mac/PC.