It has arrived: the 2.0 version of the Red Bull BPM DJ app. With this update, BPM takes another step in the development of touch device DJ'ing, adding social as well as technical features. BPM DJ 2.0 is now available in the App Store. DJ Julien Chaptal presents the new version in the second BPM tutorial video.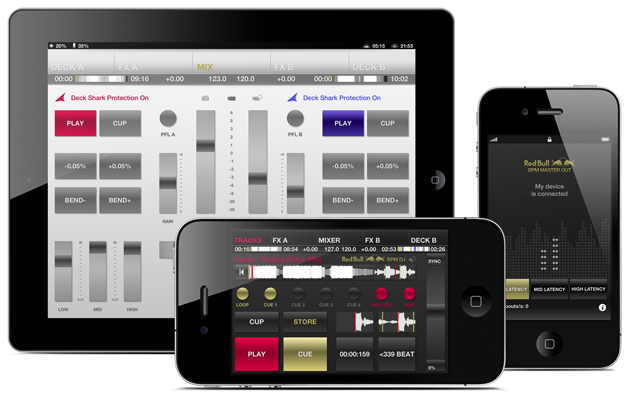 BPM DJ 2.0 makes full use of the possibilities that technology nowadays has to offer, and takes the demands of the modern day DJ's into account as well. Social features include photo functionality (iPad 2 or higher), which enables you to instantly post pictures of your gig to your social media platform of choice, and Deck Shark, a tool you can use to directly Tweet the tracks that you are playing.
Among the technical changes, you will find such features as Key Lock, to adjust the tempo of the song without affecting the key and several adjustments to the track screen. You can now see the cover art, change the BPM rate, and sort your tracks by duration. Furthermore, a few workflow alterations have been made, the headphone volume is louder, and the effects will not turn of when the app is playing in the background.
Red Bull BPM
BPM DJ offers the 21st century equivalent of a professional DJ setup with 2 decks, 2 effect engines, and a mixer. A high quality tool with focus on performance, low latency, usability and stability, designed for the real club's DJ booth. Red Bull BPM DJ for iPhone, iPod Touch, and iPad contains a full featured set-up, while the MasterOut app (to be used on a second device) provides you with a second stereo input via WiFi.