Griffin Technology, one of the world's foremost creators of innovations for everyday life, is excited to announce the availability of MIDIConnect, a MIDI in and out interface for iPod touch, iPhone and iPad.
"MIDIConnect offers musicians a compact and portable solution to create and edit music on the go, at a fraction of the cost of a recording studio," said Ethan Opelt, Line Manager of Griffin's Audio category. "We are excited to be showcasing MIDIConnect as well as Griffin's lineup of music products at Summer NAMM, taking place in Nashville, our home town."
MIDIConnect adds a MIDI input and output to iOS devices. Intuitive to use, MIDIConnect allows you to plug MIDI keyboards and other MIDI-capable devices into an iPad, iPod touch or iPhone. Play your MIDI instrument straight into GarageBand or other MIDI-capable apps, or download MIDI Controller apps to use the MIDI out port and your touchscreen in performance, as a MIDI controller. Both MIDI in and out ports are industry-standard 5-pin DIN connectors, compatible with most commonly available MIDI cables and connectors.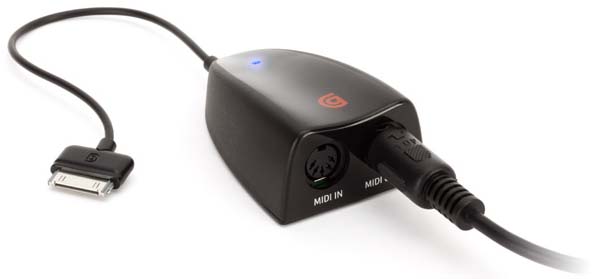 MIDIConnect is now available for $79.99 at www.GriffinTechnology.com.
The MIDIConnect will be on display at Summer NAMM in Nashville from July 12-14, 2012. Visitors can stop by Griffin's booth #308 to check out Griffin's latest music gear, some of which includes:
– StudioConnect – a compact and portable solution that enables musicians to create and edit music on the go, combining two worlds of recording – audio and MIDI.
– GuitarConnect Pro – analog to digital instrument interface for iPad and iPhone 4.
– DJ Cable – combined with algoriddim's djay app, the DJ Cable enables Split Output mode, giving DJs full audio control over pre-cueing