BEHRINGER has today announced the immediate availability of the XiControl iPad App for its flagship X32 Digital Console. The app is a free download from Apple's App Store and is compatible with all versions of the iPad including the 1, 2 and New iPad. Once installed, the app allows complete mixing control over the X32 Digital Console, opening a world of new possibilities.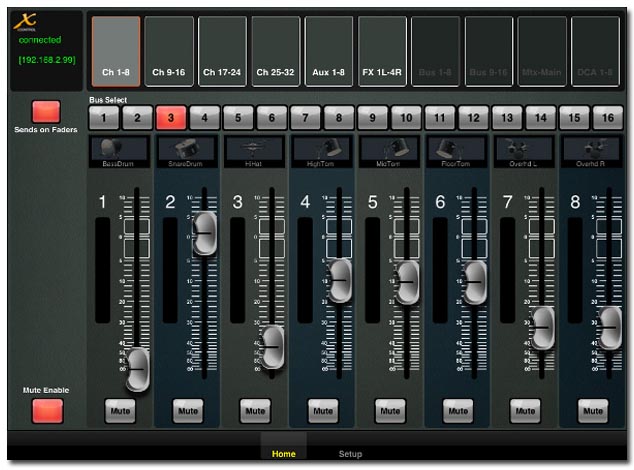 The XiControl app offers fader control over Mic/Line inputs 1 – 32 plus Aux 1 – 8 as well as all 8 FX returns, 16 Mix Busses, the Main LRC and Matrix Outputs and all 8 DCA Groups. With real-time metering, channel labels that reflect the LCD scribble-strip settings on the console and individual channel mutes, the app offers a seamless transition from the control surface to the iPad®. In addition, BEHRINGER's powerful "Sends on Faders" functionality is enabled, allowing for powerful mixing options in real-world applications.
Setup and operation of the XiControl app is simple and requires no computer or additional hardware other than an existing wireless network. Plus, with true IP connectivity, you can use multiple iPads® at one time to control the X32, allowing for a whole host of exciting applications including individual 32-channel personal monitor mixing, right from the iPad®. Future XiControl releases will include detailed channel editing and many other features, all at no charge, making the X32 the industry's most powerful, intuitive and flexible digital mixing system available.
Download the BEHRINGER XiControl for X32 App from the Apple App Store.
Watch the Setup and Operation Video on YouTube.