The development of this bx_stereomaker plugin has a story behind it, as Dirk Ulrich (from Brainworx) got the initial idea for this plugin when producing an album where he ran into a 'problem' he needed to be solved.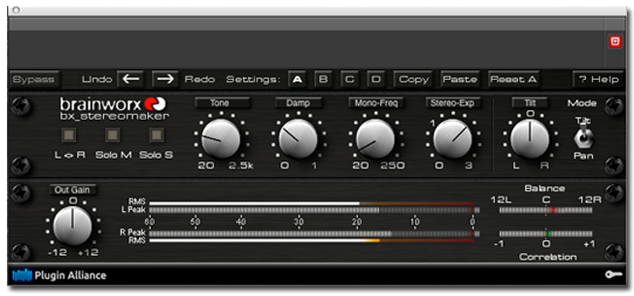 "I remember sitting in a studio in Russia a few years ago, producing an album featuring James LaBrie (of "Dream Theater") and running into a serious problem with one of the mixes we had to finish. The only way to solve it was to use M/S technology, and we went nuts to setup an M/S EQ in the analog mixing room, but somehow we did and it worked just great. "I wished there was a plug-in EQ with M/S features…"
How many times did you have to mix a well-recorded signal which just won´t fit in the mix… because it´s mono. With modern mixes becoming tighter and tighter (but wider and wider as well) adding reverb or FX like chorus won't quite help now as you don´t want to loose the tight center of a lead vocal, acoustic & electric guitar or a screaming synth sound. Still you need to spread these sounds to lay them into the mix perfectly…
bx_stereomaker will do the job.
It creates a virtual S signal with analog style filters using advanced digital science. You can solo this virtual S signal! bx_stereomaker will enhance any mono signal to stereo, while allowing you to balance the center of the stereo signal and paying attention to the frequency range of your signal.
bx_stereomaker is part of the new Brainworx Rock´n´Roll line. It will be available individually or as a part of the Pro version of bx_rockrack!
Embed mono signals in modern mixes. Wide & tight! Out August 20th.