Positive Grid announced the release of a trio of new iOS music-utility apps: Beats Metronome, Jam Player, and AccuTune. All offer the same high level of sound quality, features, and usability found in the company's flagship app, JamUp Pro.
"Each of these apps performs a specific function and does it really well," says product manager Calvin Abel. "We're confident that musicians will find all three to be essential items for their software toolkits."
Beats Metronome combines a comprehensive feature set with an elegant user interface. It can be set to a whopping 35 different time signatures, including compound and complex meters. It also sports a handy tap-tempo function—great for figuring out song tempos—and 17 different click sounds. Turning on Flash Mode in the Settings page enables a strobe-like flash on each beat (it can also be set to flash only on the downbeat). This mode can be very useful onstage or in other low-light environments. A different type of graphic depiction of the beat is provided when the Visual Beats function is turned on and the iOS device is rotated to landscape mode. The display changes to show circles that represent the beats in a measure. As the metronome counts the time, the appropriate circle is highlighted, providing an easy-to-follow visualized version of the tempo.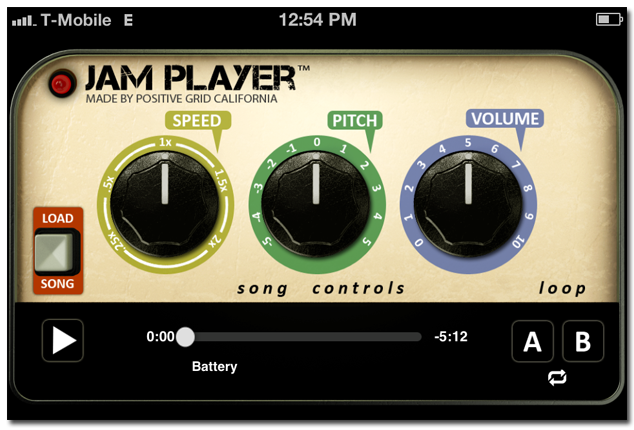 Jam Player is a simple-to-use, yet enormously powerful app that promises to make learning and practicing songs a lot easier by letting the user seamlessly manipulate the tempo and pitch of a recorded song. The first step is to load a song into the Jam Player from the iOS device's iTunes library. The Speed control knob can then be used to slow down the tempo of the song without affecting its pitch. For instance, a super-fast guitar solo could be slowed significantly to make it easier to learn, and then sped up periodically as the player becomes more comfortable with it. The Pitch control raises and lowers the pitch but has no impact on the tempo, and it's a great way for a singer who's learning a song to change the key of the original track to match his or her vocal range. Using the Speed and Pitch controls in tandem allows for manipulation of both variables. The app's sophisticated pitch and time algorithms provide stunningly good results, even at extreme settings.
As its name suggests, AccuTune is a super-accurate chromatic tuner. It responds either to notes captured by the iPhone or iPad's microphone, or through a guitar adapter like Positive Grid's JamUp Plug. It provides two different views: the top of the screen is a standard meter display and the bottom a note-wheel. Both offer a great level of detail, making precise tuning easy. Pressing the Setup button brings you to the Settings screen, where you can change the calibration from the default 440 Hz, set transposition, adjust temperament, and more. Most importantly, the AccuTune features a smooth response, making tuning easy.
Beats Metronome and AccuTune list for $4.99 and Jam Player for $9.99. However, all three are available for the low introductory price of 99 cents.