Recently we came across this quite interesting app for your iPad, Wavemachine Labs Auria. With the ability to play 48 mono or stereo 24bit/96 kHz tracks simultaneously, record up to 24 of those tracks simultaneously (through a supported USB multichannel audio interface), and edit and mix with familiar tools and full parameter automation, it's clear Auria sets a new standard for iPad multitrack recording.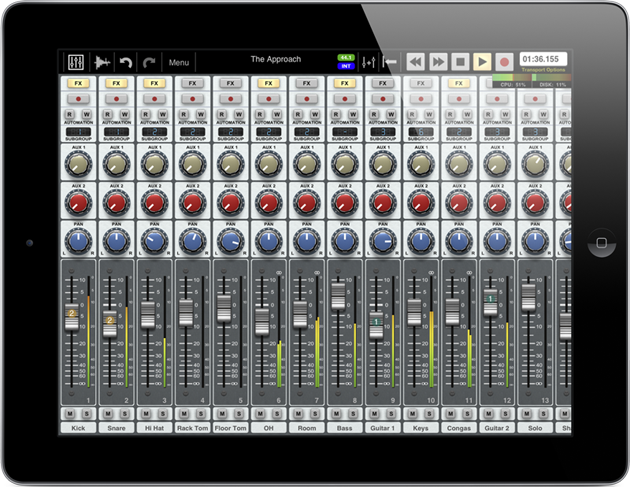 What's more, Auria's 64-bit Double Precision architecture ensures ample headroom for plug-in processing and mix summing, transforming your iPad into a recording and mixing studio with sound quality that rivals most DAWs.
The depth is in the details. Like customizable pan laws. Like meters that are selectable between peak and RMS. Like full delay compensation for all tracks, including aux sends and subgroups. Complete with a vintage-inspired channel strip on every channel, a dedicated master channel strip, VST effects engineered by renowned makers such as PSPaudioware, Overloud, Fab Filter and Drumagog, and support for Dropbox, Soundcloud, AAF, and MP3, Auria truly raises the bar for recording and mixing on the iPad.
Full Feature List
48 tracks of simultaneous playback of stereo or mono files. (24 tracks on iPad 1)
Up to 24 tracks of simultaneous recording when used with compatible USB audio interfaces (Camera Connection Kit required)
Supports sample rates of 44.1KHz, 48KHz and 96KHz (iPad 1 supports only 44.1KHz and 48KHz)
Vintage-inspired ChannelStrip on every channel by PSPAudioware includes Expander, Multiband EQ and Compressor
MasterStrip on all subgroup and master channels featuring PSPAudioware BussPressor, EQ and Mastering Limiter
64 bit double-precision floating point mixing engine
Third party VST effect plugin support available via in-app purchase (only iOS-version plugins are supported. All plugins must be purchased through the in-app store)
AAF import and export allows transferring complete sessions between popular DAWs like Logic, Pro Tools, Nuendo, Samplitude and more
Convolution reverb plugin with included IR library
ClassicVerb reverb plugin included
StereoDelay and StereoChorus plugins included
ReTune plugin included for auto pitch correction of vocals
8 Assignable subgroups and 2 aux sends
Powerful touch-based waveform editor with features such as cut/copy/paste, crossfade, duplicate, separate, gain, normalize, dc offset, reverse, and more
Flexible snapping tools allow snapping to events, cursor, bars, beats and SMPTE frames
DropBox, SoundCloud and Audio Copy/Paste support
Track freeze for minimizing CPU usage
Full automation support on all controls with graphical editing
True 100mm faders when used in Portrait Mode
Optional video import feature allows sample accurate sync of video to an Auria project. Adjustable offset times and video export capability
Timeline ruler options include minutes:seconds, bars:beats, samples and SMPTE time
Auto-punch mode
WIST support for wireless syncing of other compatible music apps
AuriaLink allows two iPads running Auria to play and record in sync, allowing for 96 tracks of playback and 48 tracks of recording
Full delay compensation on all tracks, subgroups, and aux sends
Adjustable metering modes, including pre or post fader, RMS and peak
Adjustable pan laws
Sample accurate loop function
Automatic sample rate conversion
Built-in metronome