Sony Creative Software, a leading global provider of professional editing and authoring solutions, today released Sound Forge Pro Mac 1.0 software, the newest addition to its line of award-winning audio and video production software products. A multichannel audio recording and editing application, Sound Forge Pro Mac software was developed from the ground up on a clean slate for OS X and features an elegant interface that redefines the audio editing experience. The application ships with a full suite of audio mastering and repair plug-ins, making it a comprehensive solution for audio professionals who work on the Mac platform.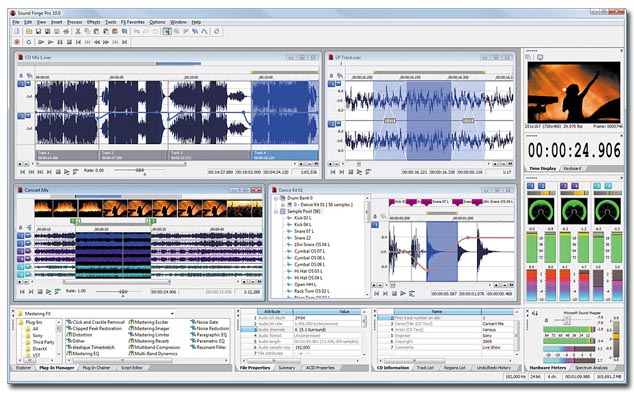 "People who work on audio editing platforms recognize the need for a fresh option in the marketplace, one that's built for OS X as opposed to something that's simply been ported over. In addition, it's no secret that cross-platform professionals have been demanding Sound Forge for the Mac for years," said Dave Chaimson, vice president of global marketing for Sony Creative Software. "Our response is Sound Forge Pro Mac, a truly contemporary OS X design. Producers will appreciate its simple elegance, uncluttered look and amazing flexibility. The included suite of mastering and repair plug-ins makes this 1.0 edition a value-packed editing powerhouse right out of the box. Sound Forge Pro Mac is our second major OS X application release this year, and we're pleased to now be very actively engaged in application development for the Mac platform."
Sound Forge Pro Mac Software Features
Focused Editing
Edit audio on a new user interface designed specifically for OS X
Access dedicated viewing panels for the ideal workflow experience when recording, monitoring, editing, applying plug-in processing and browsing for content
Toggle between features to view only those you need to see during a particular editing task
Engage legacy Sound Forge event-based editing for effortless sequencing of audio on the timeline
High-fidelity recording
64-bit /192 kHz maximum resolution
Record up to 32 simultaneous channels
One-stop audio mastering
Produce broadcast-ready audio master files
Make sophisticated processing tasks easier than ever with the new Plug-in Chainer design
Apply plug-in parameter envelopes for precision mastering
Use the included Mastering Effects Bundle by iZotope™ – a suite of six essential audio mastering plug-ins: EQ, Multiband Compressor, Exciter, Imager, Limiter and Reverb
Professional signal and effects processing
Full range of native processes
Zplane™ elastique Pro time-stretching and pitch-shifting plug-in
iZotope 64-bit SRC (sample rate conversion) and MBIT+ dither (bit depth conversion)
Supports AU and VST plug-ins for both offline and non-destructive processing
Restore and Repair Tools
An iZotope exclusive for Sound Forge Pro Mac software

Declicker: automatically identify and remove clicks and pops
Denoiser: eliminate unwanted noise with noiseprint-based noise reduction
Declipper: reconstruct peaks damaged by clipping
Price and Availability
Sound Forge Pro Mac software will be available September 2012. For more information or to download, visit www.sonycreativesoftware.com. Manufacturer's Suggested Retail Price (MSRP) is $299 USD.