Serato has partnered with leading-edge hardware manufacturer Pioneer, to design the Pioneer DDJ-SX controller, a professional level controller specifically designed for Serato DJ. This controller brings the best of both worlds together, and digital DJs worldwide can get theirs from 1 November 2012, when the Pioneer DDJ-SX controller launches with Serato DJ.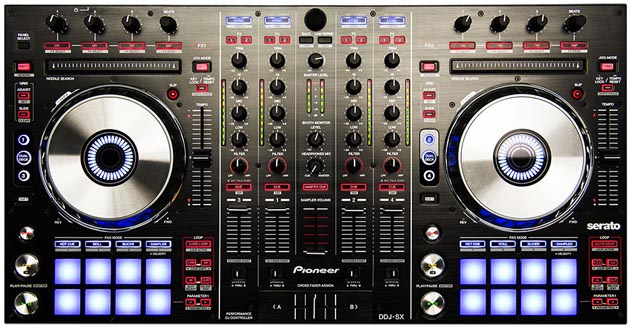 With the launch of Serato DJ, Serato brings their newest DJ software to professional DJs at the top of their game. Coming this winter, in a rollout of release dates starting from November 1, this software delivers our best feature set for all-in-one controllers and is the much-anticipated upgrade. Serato DJ delivers all the features and performance to meet the demands of DJs at the top of their game and sets the new standard for controller DJs.
The most advanced all-in-one DJ controller to date, the DDJ-SX is loaded with features and is built to the same high standard that DJs have come to expect from Pioneer. Coupled with the advanced feature set of the new Serato DJ software, it provides the best combination for Digital DJs looking to upgrade their gear and gives them scope to broaden their skills and knock the socks off their audience!
Pioneer DDJ-SX features
Tight integration with Serato DJ
Developed specifically for Serato DJ, the DDJ-SX controls are tightly integrated with the software features giving you the best hands on control over your performance.
Performance Pad Section
8 velocity sensitive, Performance Pads to control Cue Points, Loop Rolls, Slicer and the SP-6.
Velocity Mode
You can enter Velocity Mode to trigger the SP-6 Sample Player slots. The harder or softer you hit the performance pads, the louder or quieter the samples sound.
Dual Deck Mode
Developed specifically for the DDJ-SX, this allows you to link two software deck layers and manipulate them as one. Go crazy and layer sounds!Large, Touch Sensitive Platters.
Trustworthy Pioneer touch sensitive platters with platter illumination and a jog wheel display allow for the tightest control of the virtual decks in Serato DJ.
4-Channel Standalone Hardware Mixer
Connect your CDJs or Turntables and have the best of both worlds.
Slip Mode
Keep everything in time and in the groove. Turn on this mode and trigger cue points, loops or scratch. Once you are done, the track will go back to the position it would have been had you done nothing.
Hardware FX Controls
Dedicated hardware controls for the brand new FX Powered by iZotope in Serato DJ.
Slicer
Chop sections of your tracks up and re-arrange on the fly. The Slicer cuts a section of your track into 8 pieces, which can be triggered creatively with the 8 performance pads.
Dedicated HP/LP Channel Filters
A dedicated High Pass / Low Pass filter per channel gives you more control to create smooth blends and interesting sounds.
Channel Fader Start
Start playback of your tracks by opening the channel fader.
Serato DJ
Even Better Experience
Serato DJ has a brand new look and a greatly improved software layout, optimized for simplicity and a great experience. The new interface also offers two and four deck view modes for four deck controllers, alongside improvements to the cue point and looping controls, which now allow you to display either 8 cues, 8 loops or a combination of both depending on how you perform.

Get Inventive with new FX
Load and customize your choice of high quality FX powered by iZotope including: Delay, Echo, Ping Pong Delay, Reverb, Phaser, Flanger, Distortion, HPF, LPF and a Combo HPF/LPF. Adjust and customize a range of parameters for each effect to shape your sound.

Hands on Control
MIDI mapping opens the software up to be mapped to a secondary MIDI controller to take full advantage of all Serato DJs features in your performance and create your own unique workflow.

Save your work
Played a great set? Want to share your latest bangers with the world? Save your nights work or record your latest mixtape. In-software recording gives you the ability to save your mix with the click of a button.

Loop it up
Take advantage of both auto-looping, which sets loops automatically based on the BPM of the track, and manual looping to create your own custom loops.

Four Decks
Mix with up to 4 decks for supported controllers.

Keep it all together
Lock your tracks together for seamless grooves. Smart Sync with Beatgrids gives you even more time to get creative. 4 deck mixing has never been better with the ability to create your own special blends of tracks, instrumentals and vocals without the pressure of keeping everything in time too. Less time making it work, more time at the party!

Serato Video
Mix music videos or add visuals to your sets. Serato Video support in Serato DJ gives you even more to enrich your performance, connect with the crowd and visualize the music.

Plug-and-Play
Less time making it work, more time at the party.

Plays well with others
Interoperable with Scratch Live, ITCH, DJ Intro and iTunes Music Libraries.

Stay in Tune
Access a wealth of free and exclusive promo music at your fingertips on Whitelabel.net.
Serato DJ and the Pioneer DDJ-SX will be available from november 1st 2012.