Agile Partners, a leading developer of guitar apps for iPhone and iPad, has launched AmpKit on the Mac App Store. AmpKit Mac users can simply connect a guitar to their Mac using a guitar interface, and the Mac is transformed into a powerful amp, effects and recording studio. AmpKit has previously been available for iPhone and iPad users, with over 600,000 downloads worldwide.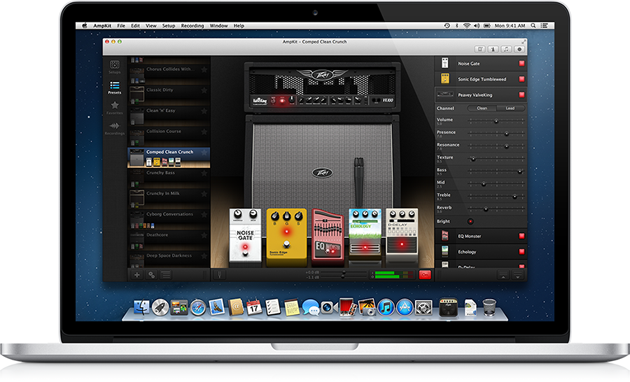 "We built AmpKit Mac to take advantage of the latest features in Mac OS X Lion and Mountain Lion, such as Full Screen mode and Multi-Touch gestures," said Agile's John Berry. "We're already getting early reviewer feedback that AmpKit Mac has significantly raised the bar for Mac-based amp and effects apps." AmpKit was selected as Mac App Store Editors' Choice over the US Thanksgiving holiday weekend.
AmpKit Mac includes all of AmpKit's amps and effects in its $49.99 price (US Mac App Store): 22 amps with 38 separate amp channels, 28 pedals, 28 cabinets and 8 mics. "We wanted AmpKit to be an easy purchase decision for Mac guitarists, whether they're GarageBand users seeking more in-depth modeling options, or pro users who'd rather work in a truly native Mac app," said Agile's Jack Ivers.
AmpKit is offered on the Mac App Store, which Berry feels is a significant benefit to users. "The Mac App Store makes for an incredibly simple and secure purchasing, installation, and upgrade experience," says Berry. "It makes life so much simpler–no frustrating registration and activation process, no hassles with update managers, no intrusive anti-piracy mechanisms like USB keys."
AmpKit gear and setups are fully compatible between Mac and iOS versions. Users with a Mac as well as an iPhone or iPad can easily use the same setup on all devices, thanks to AmpKit's setup sharing feature. AmpKit Mac includes 137 built-in presets that range from smooth cleans and earthy acoustics to bone-crushing high-gain metal.
AmpKit will run on any Mac with OS X 10.7 (Lion) or 10.8 (Mountain Lion) installed. A free trial version of the app is available for download at ampkitmac.com.