The Electrix Tweaker is a performance controller for Ableton users, Traktor users, and music producers and performers of all genres. Gathering a wide variety of controls elements in a compact portable design, the control surface includes a 32-button grid, velocity sensitive pads, push encoders with LED rings, in a 2 channel DJ mixer style interface, with super bright multi color LED feedback.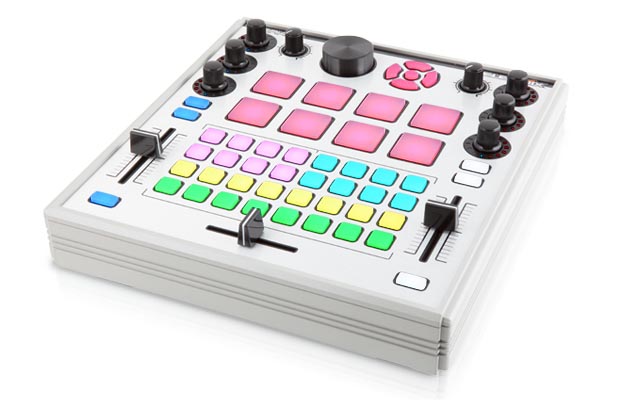 Intuitive and Compact
The intuitive, compact layout is well suited for the studio, the stage, and the DJ booth. Use it as your main DJ controller or as an add-on to any setup. Removable legs are included to match traditional DJ gear. With the legs installed, the Tweaker is the same height as DJ turntables and mixers.
The Tweaker is USB Class Compliant in both Mac OS and Windows, and does not require any MIDI drivers for either platform. An additional set MIDI I/O ports are provided to connect other devices. Although highly customizable, this universal MIDI controller includes a bundle of software and mappings to get you going right away.
Traktor
Tweaker ships with Traktor LE 2 and includes mappings for Traktor Pro 2, so you can start mixing records in minutes using just a Tweaker and your laptop. Use the velocity pads for expressive effects control, the grid to trigger hot cues and loops, and the multi function encoders for EQing, beatjumping and much more, all with extensive multicolored visual feedback.
Ableton Live
A Remote Script is included to enable Live to natively support the Tweaker. Tweaker has two session views for independent control and navigation of clips and the mixer. The button grid enables launching and stopping clips, and features a session shift button for an additional layer of control. The drum pads are mapped to the drum rack and can be transposed to access up to 64 drum rack pads. The Mixer controls Volume, EQ and Devices, Solo, Arm Recording, Crossfader A/B Assign, and the Crossfader.
Serato Scratch Live
Add Tweaker to your Serato rig for the ultimate control. The navigation section is used to browse the crates and library, load tracks, and create instant doubles. The button grid is used to trigger hot cues and loops. The velocity pads control the SP6 sampler and the encoders control the DJFX unit. The two vertical faders are used as pitch faders for internal mode. Combined with instant doubles, it enables you to mix a set with just one turntable and a Tweaker.
Tweaker Editor
The Tweaker Editor provides a complete interface for modifying the settings and controls of the Tweaker. While the Tweaker provides a lot of capability without ever changing its settings, many users will want to explore its full potential as a controller for various software and hardware platforms. The editor also creates preset files that are stored on your computer, to extend the preset possibilities and share setups with others.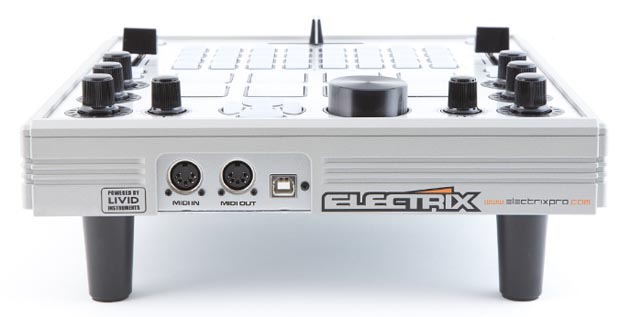 Features
2 Channel DJ mixer style interface
32 Button grid with multicolor LED feedback
8 Backlit velocity sensitive pads with aftertouch
6 Push encoders with LED rings
Intuitive navigation controls with 5-way selector and large push encoder
USB bus powered
MIDI In and Out ports
Removable height extension legs
Plug and play on Mac and PC
Dimensions: 11″ x 10.5″ x 1.75″ (279mm x 267mm x 44.5mm)
Includes
Traktor LE 2 DJ Software with overlay
Ableton Live Remote Script with overlay
Traktor Pro and Serato Scratch Live mappings
Tweaker Editor Software
Removable legs
USB cable
The Electrix Tweaker performance controller is available at 399,99 Dollar (please note NOT 400!).