Native Instruments launched a 50% off Thanksgiving sales special. From November 22 until November 26, KOMPLETE Instruments and Effects, MASCHINE Expansions and TRAKTOR PRO DJ software are on sale for 50% off their original price. iMASCHINE is also specially priced at $0.99 / 0,89 € – an 80% savings.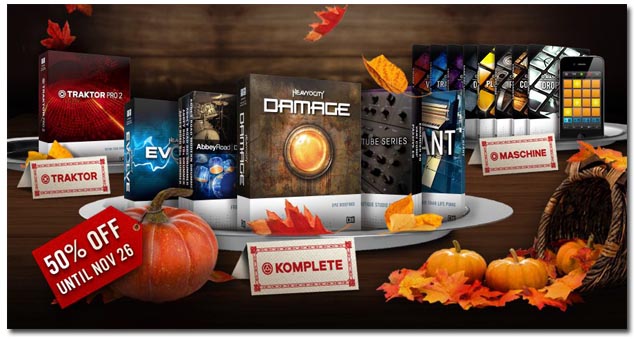 The world of KOMPLETE offers users a vast range of instruments and effects for modern music production. Customers can now get various stars from the KOMPLETE range for half price, including pristinely sampled instruments such as The ABBEY ROAD DRUMMER Series, THE GIANT, the cinematic DAMAGE and EVOLVE libraries, and the SCARBEE range of electric pianos and basses. An unmatched selection of synthesizers such as MASSIVE, REAKTOR, and RAZOR and studio effects like the PREMIUM TUBE SERIES and SOLID MIX SERIES give producers across all genres professional, innovative, and inspiring tools. The new KOMPLETE generation integrates seamlessly with MASCHINE, providing direct access to instrument parameters from within the MASCHINE browser.
MASCHINE Expansions are sound packs created to expand the sonic palette available to MASCHINE users. Expansions such as CONANT GARDENS, RAW VOLTAGE, and VINTAGE HEAT come complete with perfectly-matched sounds, samples, patterns, and projects, letting users create complete tracks without the need for additional sounds. DROP SQUAD, the very latest MASCHINE Expansion, also features custom presets for MASSIVE – the powerful synthesizer included free with the purchase of MASCHINE.
iMASCHINE is an intuitive beat sketchpad for iPhone®, iPod touch®, and iPad®. Portable, flexible and easy to use, iMASCHINE is ideal for developing song ideas on the go. All projects can be exported to MASCHINE for further production and final tweaking.
TRAKTOR PRO 2 is NI's flagship DJ software, offering DJs maximum creative potential. DJs have access to up to four decks, plus innovative Remix Deck™ technology. More than 30 studio quality effects and a loop recorder are also included for powerful remixing options. The latest version of TRAKTOR PRO 2 also features the new Flux Mode and Macro FX. Flux Mode tracks the time elapsed during complicated scratch and effect performances, and returns to the track at exactly the right point – as if the song had been playing in the background. The 11 Macro FX have been designed according to classic DJ workflows, mapping complex effect performances onto a single knob on TRAKTOR hardware controllers. Customers can purchase TRAKTOR PRO 2 for $44.50 / 39.50 € during the sales special – a very special value on this powerful DJ software.
From Nov 22nd until November 26, 2012, KOMPLETE Instruments and Effects, all MASCHINE Expansions, and TRAKTOR PRO are available for 50% off. iMASCHINE is available from the Apple App Store for $0.99/0,89 €.
This special offer is valid from 11:00 (CET) on November 22, 2012 to 24:00 (CET) on November 26, 2012, while stocks last. The special offer is not valid on iMASCHINE Expansions, accessories, bags, or NI Wear, KOMPLETE AUDIO 6, GUITAR RIG 5 KONTROL, RIG KONTROL, MASCHINE, MASCHINE MIKRO, KOMPLETE 8, KOMPLETE 8 ULTIMATE, KOMPLETE ELEMENTS, SESSION HORNS, ACTION STRINGS. Not valid on TRAKTOR products except for TRAKTOR PRO 2. iMASCHINE is available from the Apple App Store. All other offers apply to the NI Online Shop only. Note that according to our terms and conditions, e-vouchers cannot be used in conjunction with special offers.
Additional information on this offer is available at: www.native-instruments.com/3coursedeal