Steinberg today announced the release of their Absolute VST instrument collection, comprising six state-of-the-art Virtual Studio Technology (VST) instruments that provide thousands of presets and sample content of electronic sounds.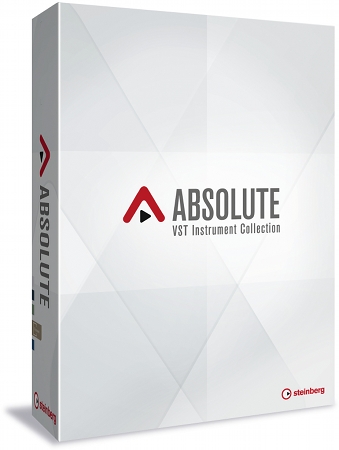 HALion Sonic combines a high-quality sample library with a powerful sampling and synthesis engine that unfolds infinite possibilities for sound generation. Featuring synthesizer programs and presets for contemporary productions, Hypnotic Dance, Triebwerk and Dark Planet complement HALion Sonic's library and as a completely new feature now also run independently as full blown instruments within VST and AU hosts. Retrologue is a virtual-analog synthesizer while Padshop Pro is Steinberg's latest achievement in bringing granular synthesis to the world of VST.
"Absolute is the epitome of what Steinberg offers regarding synthesized sounds. With the entire collection running on your computer, an infinite palette of sounds is at your fingertips," commented Matthias Quellmann, Steinberg's product marketing manager for VST instruments. "It's going to take a while for users to comprehend the sheer magnitude of it all," Quellmann added.
HALion Sonic is Steinberg's renowned VST workstation with more than 1,300 synth sounds, hybrid and acoustic instruments that spans 12 GB of hard drive. A maximum of 20 articulations per instrument cover a generous scope of playing styles for various instruments, while support for Steinberg's VST Expression technology allows for real-time control of all HALion Sonic articulations.
Hypnotic Dance offers unique content with 300 synthesizer sounds and 100 step modulator presets for heavy bass lines and atmospheric pads dedicated to classic trance and rave productions.
Triebwerk boasts 700 MB of sample content, featuring seven drum kits, additional percussion kits, more than 200 synthesizer sounds, 240 HALion FlexPhrases and over 170 beats and loops for four-to-the-floor club music.
Dark Planet comes with 800 presets with lead, bass, pad and percussion loops and instruments as well as high-quality sample content, spanning more than 2 GB in size and ideal for cinematic scores and musical excursions. Its MorphFilter boasts four classic filter types for blending two filters at a time.
Retrologue houses two oscillators, each with a maximum of eight widely detunable voices, one sub and one noise oscillator, alongside a dozen high-quality filter types as well as 300 presets. Also on board are two LFOs and two ADSR envelopes. With the ten-stage Modulation Matrix, users can assign modulation sources to vary the targets' values, also supporting modulation assignments from Note Expression, Steinberg's groundbreaking method for editing controller data.
Padshop Pro delivers two individual tiers in granular textures that are mixed and processed with a dozen high-quality filters, modulation and delay effects. Each layer consists of one oscillator for generating up to eight grain streams with innovative parameters, two LFOs that offer a choice of six wave shapes and two ADSR envelopes that can be applied to various sound parameters, therefore boasting a flexibility absolutely new to granular synthesis. 250 presets are included with the Zero Gravity expansion pack.
HALion Sonic, Retrologue and Padshop Pro can be accessed within any VST 3, VST 2 and AU compatible host. Hypnotic Dance, Triebwerk and Dark Planet can be accessed through HALion, HALion Sonic and HALion Sonic SE or, alternatively, can be run independently under any VST 3, VST 2 and AU compatible host. This is a novelty as Hypnotic Dance, Triebwerk and Dark Planet are powered by dedicated HALion engines and therefore now are fully fledged instruments. All instruments offer cross-platform compatibility with 32 and 64-bit Windows and Mac OS X systems.
Availability and pricing
The full retail version of the Absolute VST instrument collection is available from Steinberg resellers and through the Steinberg Online Shop. The price is 299 euros, including German VAT.
Steinberg is offering users of Cubase 6.5 and Cubase Artist 6.5 a download version of the Absolute VST instrument collection. This version includes the upgrade to Padshop Pro, not the Padshop Pro full version, excludes Retrologue and the USB-eLicenser, and requires the HALion Sonic Trial DVDs included in the Cubase 6.5 and Cubase Artist 6.5 retail boxes. This offer is available exclusively through the Steinberg Online Shop for 249 euros, including German VAT.