After a beta period Mixed in Key 5.5 is now available to the public. The major new feature with this update is the addition of 'Energy Level Detection'. Now you can detect the 'power' a track has and match it with other tracks with the same energy level.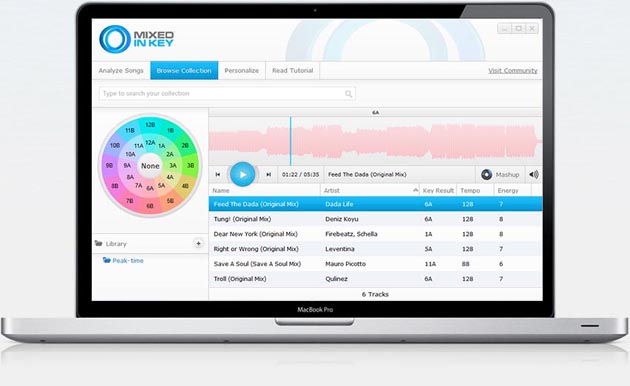 Mixed In Key
Mixed In Key announced the release of Mixed In Key 5.5, the latest version of its harmonic-mixing software used by top DJs, including Pete Tong and Paul Oakenfold, as well as aspiring and hobbyist DJs around the world. Mixed In Key quickly identifies the keys and tempos of music files, making it easy to create mashups and perfect DJ sets. Version 5.5 offers for the first time, energy analysis giving songs their own danceability rating, providing DJs with a new tool to create perfect sets.
"Our energy analysis is a radically new way to predict crowd reaction. It makes it easy to sort your entire music collection into low, medium and high-energy tracks," said Yakov Vorobyev, president of Mixed In Key. "This new feature analyzes the rhythm, the bass line and the melody of each track and shows you the danceability of each track."
Mixed In Key's key-detection algorithm provides unmatched accuracy and sophistication, and can even detect key changes within songs. Key changes are shown in the waveform display of the Audio Player, allowing users to see where the change occurs.
Mixed In Key uses the "Camelot Wheel" system, which displays key names on a circular, numbered and color-coded chart, to make harmonic mixing easy for DJs by graphically showing which songs are compatible with each other. Once the software has analyzed a collection of songs (e.g. an iTunes library), clicking on a key name on the Camelot Wheel instantly brings up all songs in that key to quickly browse compatible songs.