TASCAM's new TH-02 closed-back, stylish headphones deliver a sound one must hear to believe, and at a low price that can't be ignored. TASCAM spent over a year comparing technologies, designs and methods to provide an amazing $100 dollar headphone for less than a third of the cost.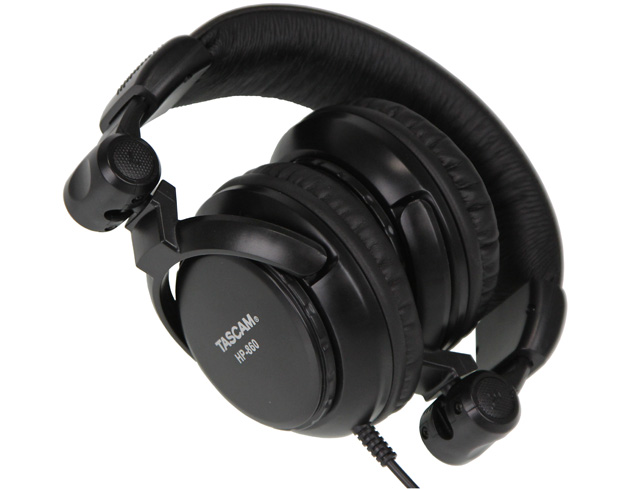 Clear and Balanced
The sensitivity and frequency response of the TH-02 deliver clear balanced sound to fit all favorite tunes, regardless of genre or application. These high-powered headphones produce pristine highs, clear mid-range, and rich low end where most other headphones leave one yearning for more.
TASCAM understands that just as important as the sound of ones headphones is a clean modern design and comfort. Featuring plush cushioned ear cuffs and a padded headband; TH-02 can be put to work for hours of comfortable use. Both left and right ear-cuffs offer full 90˚ rotation, making TH-02 flexible to wear when listening to favorite albums, tracking for hours or performing all night. The folding design of the TH-02 allows them to compactly fit wherever they need to go.
TASCAM's TH-02 headphones can easily be a part of one's everyday accessories but also fit into a recording or performing workflow. Don't just hear with any pair of headphones; truly listen to the details of music and media while enjoying comfort and flexibility. With the TH-02 headphone, TASCAM (as always) has delivered first-class quality, style and design at a price everyone can appreciate.
Main Features
Foldable Design for Easy Compact Transport
Tightly-Stitched, Padded Headband and Ear Pads for Stylish Comfort
Closed-Back Dynamic Design with Clean Sound, Rich Bass Response and Crisp Highs
Snap-on 1/8" (3.5mm) to 1/4" (6.3mm) Adapter
Driver Diameter: Ë 50mm
Impedance: 32 Ohms
Sensitivity: 98 dB ± 3dB
Frequency Response: 18 Hz – 22 kHz
Max Input Power: 600 mW
Cable Length: 9.8ft (3m) when fully extended