Zynaptiq announces version 1.6 of UNVEIL, their realtime de-reverberation and signal focusing plug-in. This free update adds VST x64 support for Windows users, enables the Preview function for AudioSuite use of the AAX version, as well as several minor enhancements and fixes, and will be available February 15th, 2013.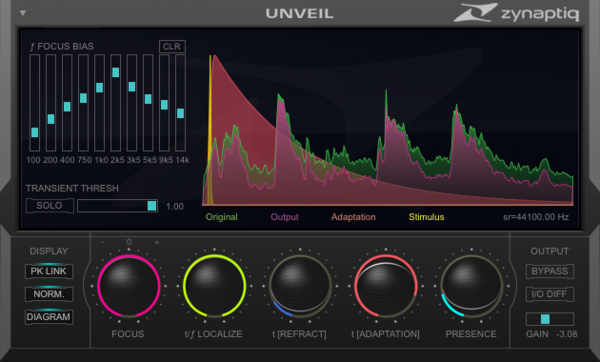 NAMM 2013
Zynaptiq will be showing the new version at the NAMM show in Anaheim, January 24th-27th, 2013, Hall A Booth #6224. UNVEIL is a real-time, de-mixing based plug-in that allows attenuating or boosting reverb components within a mixed signal of any channel count, including mono sources.
Additionally, UNVEIL allows bringing the key features of a recording into focus, or moving them to the background, by attenuating or boosting perceptionally less important signal components.
What's new in UNVEIL v1.6
• Now also supports 64bit operation as VST on Windows systems.
• For the AAX Plug-In, AudioSuite Preview functionality is now enabled for ProTools version 10.3.3 and above.
• The RTAS plug-in now supports EuCon in ProTools.
• Improved compatibility with Apple Final Cut Pro X.
• Mac: Authorization now valid system-wide.
• Mac: Authorizer app now launches on install.
• Increased time-out and removed nag screens for the free trial version.
Zynaptiq GmbH, based in Hannover, Germany, creates audio software based on artificial intelligence technology, and is also known for their real-time polyphonic pitch-mapping plug-in PITCHMAP. The free UNVEIL v1.6 update will be available from Zynaptiq February 15th, 2013. UNVEIL is priced at USD/EUR 399,- (prices in EUR inclusive of 19% VAT) and available from the Zynaptiq website as well North American and Japanese retailers.
For more information, please visit the product's website at www.zynaptiq.com/unveil