One of those more 'quirky' and interesting products we saw today was the Beamz Player. It's a laser controlled controller which can be used by DJ's to control virtually any DJ program and/or lighting control applications via MIDI and keystroke mapping. Configure and control up to 54 triggers – map controls to be triggered by breaking laser beams or using the buttons and rocker switches on the Beamz laser controller.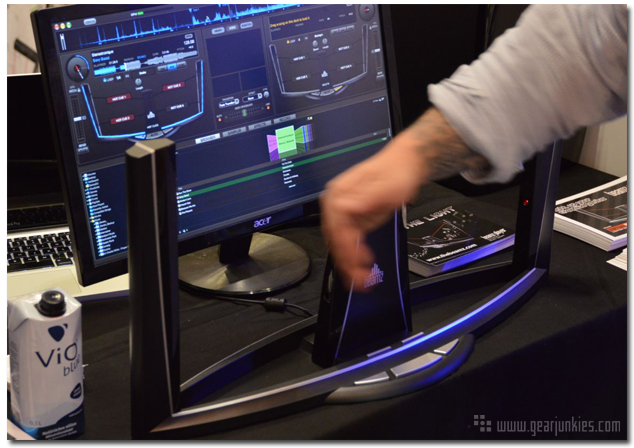 The Beamz laser controller includes 4 red laser beams plus 5 programmable buttons and rocker switches so you can take your creativity and mixes to a whole new level. It's easy to get started – free presets are available for the leading applications and tutorials will guide you.
The Beamz controller and Beamz DJ software is great for creating and sending multiple and/or complex simultaneous commands to virtually any DJ application. You'll be amazed with the real-time loop playback adjustments you can easily make using the laser beams and the rocker switches – and rapid cue points look awesome via tapping a red laser beam.
Free presets are available for:
Ableton Live 8 — use with Live 8 version 8.1.3 or later
Cakewalk Sonar X1 — use with Sonar X1 and/or Sonar Producer 8.5 or later
Native Instruments Traktor Pro & Duo — use with Traktor Pro or Duo software
Serato – use with Serato DJ Software
Virtual DJ – use with Virtual DJ Version 7 Software (Pro or Home)
PCDJ – use with PCDJ Red Mobile 2.0 or Dex 2.0 Software