Novation just introduced their Launch Pad S controller for Ableton Live. The device is a powerful 64-button music controller that lets you make music or mix tracks using a super-intuitive grid of multi-colour buttons. Launchpad S is the evolution of Novation's best-selling Launchpad 64-button grid music controller — with much brighter buttons, significantly faster refresh rate and it supports multiple software.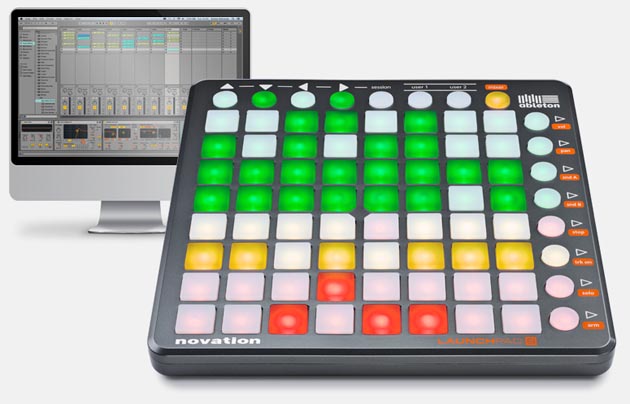 The number one Live controller
Launchpad S comes with Ableton Live music software (Launchpad Edition), used by some of the world's top DJs and producers – plus it supports other grid-based music applications such as FL Studio. Whether you're a DJ, performing musician or studio producer, Launchpad gives you all you need to 'play' your software straight out of the box. Use the 64-button grid to launch and manipulate clips, trigger loops, fire off effects, control your mixer – and much more. Launchpad S also triggers loops and effects in the new Novation Launchpad app for iPad; a totally self-standing music performance app that hosts sounds and effects.

Launchpad is totally portable. Hooked up to your computer – or iPad – via USB, it's fully bus powered (no need for power sockets), and it's lightweight and easy to carry anywhere.
Key Features
• The new 64-button grid music controller with MORE
All the features of the original — now with much brighter buttons, faster refresh and expanded app/system support
• Supports Ableton Live and other grid music applications
Ableton Live software is in the box — also supports FL Studio with no additional drivers. And your iPad!
• Control your mix
Including volume, pans, sends, track arming, soloing and muting. Launchpad S lets you jump to different levels across eight channels at once
• Launchpad iPad app
Trigger loops and effects using the Launchpad app on iPad — Launchpad S can be plugged into your iPad and fully powered with a Camera Connection Kit
• Take it anywhere
Launchpad S is fully USB bus powered — no need for power sockets or batteries — and it's lightweight and easy to carry anywhere.
• More software and sample content
Comes with the Novation Bass Station synth plug-in and over one gigabyte of Loopmasters samples
Worldwide Availability: Shipping April 2013. Pricing: £149.99 / $169.99 / €179.99
In a second video Novation explaines how the first video, Kill The Robot, was made. Watch that here!