Propellerhead released for sale today Reason 7 and Reason Essentials 2, major updates to its award-winning music software line. The latest versions inspire musicians to create more and better music with deep, streamlined mixing and a complete rack for all types of instruments.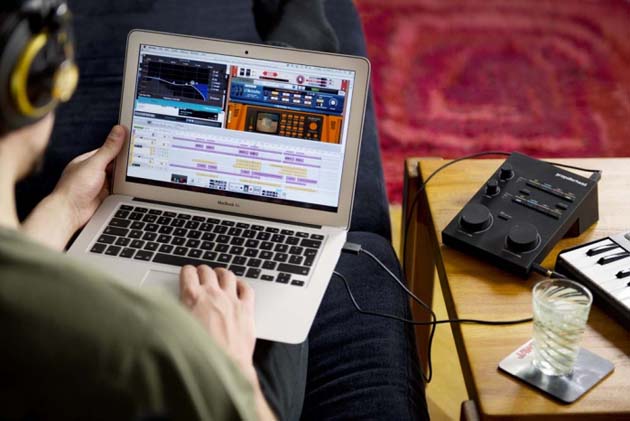 Inspiring Upgrades
Reason's renowned music-centric design focuses around a virtual rack of software instruments, effects and processors connected to a world-class mixing console. Users can go from ideas to music, literally in minutes, designing their of the dreams in the process while never stopping their creative flow. Now, version 7 offers integration of all instruments—in and out of the "box"—with MIDI out. Automatic audio slicing and audio quantize enable quick fixes or style changes of recorded performances—even conversion of those recordings into REX loops for further creative possibilities in the rack.
For mixing, Propellerhead adds a spectrum analyzer with visual EQ controls to "see" the audio and tweak equalization settings of any tracks in mixer. One-click group and parallel mix channels go beyond what is possible in physical large format mixers—instantly exposing the world of modern parallel effects and automation. And to inspire, Reason 7 makes importing audio from users' music libraries and the web with support for mp3, aac, wma and more a snap. An enhanced Factory Sound Bank comes with tons of new loops and drum kits supplying the latest sounds ready to be thrown into tracks.
Audiomatic Retro Transformer takes its place alongside over 100 third-party instrument, effect and utility Rack Extensions (RE) already available for Reason. Designed for use on any instrument, channel or even group mix, Audiomatic oozes character to the sound. Inspired by retro phone apps, Audiomatic, with 16 snapshots going from Vinyl and VHS tape to PVC pipe and Gadget, immediately evokes an auditory mood, place or time. The RE is included free in Reason version 7 but is available to owners of Reason 6.5 and Reason Essentials too, as a separate purchase. As with any Rack Extension, all users can try a fully functional version free for 30 days.
Pricing & availability
Reason 7 & Reason Essentials 2 are now available at the following suggested retail pricing:
Reason 7
EUR €405 / USD $449
Reason Essentials 2
EUR €120 / USD $129
Reason 7 Upgrade (from any previous Reason version)
EUR €129 / USD $129
Reason Essentials 2 upgrade from any previous version
FREE
Balance (includes upgrade to Reason 7 for earlier versions of Reason)
EUR €429 / USD $449
Audiomatic Retro Transformer Rack Extension (RE)
EUR €39 / USD $49
(FREE for Reason 7 owners)
Purchasers of certain previous-version Reason products may qualify for a free upgrade to Reason 7. For details see: www.propellerheads.se/freeupgrade