Denon DJ is pleased to announce new feature loaded and optimised legacy functions to its music management system Engine. Listening intently to user feedback, and maintaining a finger on the pulse of today's DJ software and hardware demands, V 1.1.0 is now available. Running on PC/Mac or with the iOS iPad version, Engine's new features make the live or studio DJ interaction experience even more fluid and precise.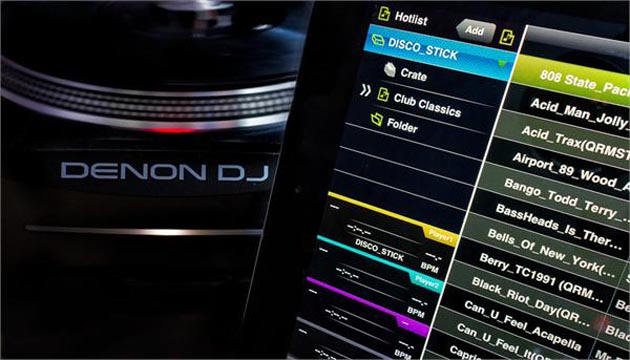 New Features
The new 'Hot List' function integrates with both the SC2900 and SC3900 media player connections, enabling 'must-play' set tracks to be stored for later use. Full search across all folder types is now added too, allowing maximised search results once connected to the SC players.
If hard disc or portable media space is limited, Engine assists by now being compatible with Mono versions of all previously supported file formats – MP3/AAC/WAV/AIFF. In addition, the new 'File Emphasis' feature illustrates any track that has been played for more than one minute in a session plus a new easy eject button is added to the user interface making disconnection from Engine, quick and trouble-free.
Creating and updating DJ database information now becomes more user-friendly while adding functionality for adding files or a directory to the main DJ database and target media. With safety and peace of mind paramount when a user is assembling their library, all work in progress music file changes can also now be copied to a user's system drive using Engine's new 'Auto-Backup' option. The software will also now auto-create a database upon start-up.
More file management improvements continue in this V1.1.0 update, including a listed display of files which may have failed with Engine registration plus the ability to export this as a CSV file to analyse and correct issues later. Although a Windows only feature, Engine has the added functionality of importing a database from the old 'Music Manager' too. Individual file attention can now be given enabling a 'playback count reset function' with also contains a handy keyboard 'B' button, BPM tap function (the latter adding a secondary indication to the user on top of any pre-analysed tempo calculation by Engine on track import).
Fixes/Improvements
General legacy function improvements include improved ID3 tag accuracy when 'memo BPM' data is changed by the user. The Genre ID3 tag also has general display and searching optimisation when written by numbered characters. A Re-Analyse improvement now gives a priority to tracks that are selected for re-analysis, even during the actual general 'analyse' process.
Mac users can also now enjoy specific Engine improvements in the form of an improved user experience when creating an initial 'DENONDJ2' folder on Snow Leopard (or later) operating systems. Both PC and Mac platform users also get visually improved drag and drop operation (file > crate or playlist), copy 'Crate to DDJ & Target', in addition to iTunes playlist registration improvements.
Media Player Updates
Denon DJ's SC2900 & 3900 players share some optimised and improved functions and all-new feature set. Engine's new 'Hotlist' feature is now enabled on both model's, with folder search improvements and improved (no 'tree' limit) cursor navigation via the player itself. Support of mono media playback files is ported in from the main Engine software improvements and the useful 'Exit Engine' and 'Cancel' menu operation enables efficient exit from a session's live connection.
BPM Database improvements and 'History' optimisation are now added to both media players with a significant enhancement to the 'continuous play' feature, over and above the previously 'single play' only mode when Engine was running. General file/folder value search improvements are now also evident over a multitude of folder types.
File playback and Hybrid MIDI mode improvements are now featured on both the SC2900 and 3900 models. AAC reproduction is now supported for music files up to 80 minutes in length (previously capped at 60 mins) – very handy for playback of perhaps pre-mixed, warm-up sets prior to a main crowd attendance. Hybrid MIDI mode gets stability improvements also, firstly to handle malfunctions as a result of a possible accidental USB connection disturbance. Secondly, Temp Cue setting when using Serato Scratch Live in 'standard' cue mode also has improved functionality.
SC3900 Specifics
The innovative technology of the SC3900 now has improved platter pitch rotation offset speed (relative to the pitch slider position). This avoids the subtle pitch drifts from previous firmware versions. The DJ scratch audio experience when using the SC3900 in 'Key Adjust' mode has also has been significantly enhanced, with more clarity and accuracy to the resulting 'sound'. Finally, MIDI platter data format, when in 'normal' MIDI mode, has improvements based on the DN-S3700.
Click the link below to vist our website and download the updates: