MOTU have announced that Digital Performer 8 is now available, for windows (and mac). Left brain, right brain. Digital Performer 8 is designed equally for both, with insiprational features devised to ignite your creative muse, combined with state-of-the-art studio production technologies engineered for the most demanding, world-class recording and production environments. Make no mistake: beneath Digital Performer's inspired user interface lies a refined audio recording and mixing engine with uncompromising devotion to the absolute highest standards in audio quality, down to the very last sample.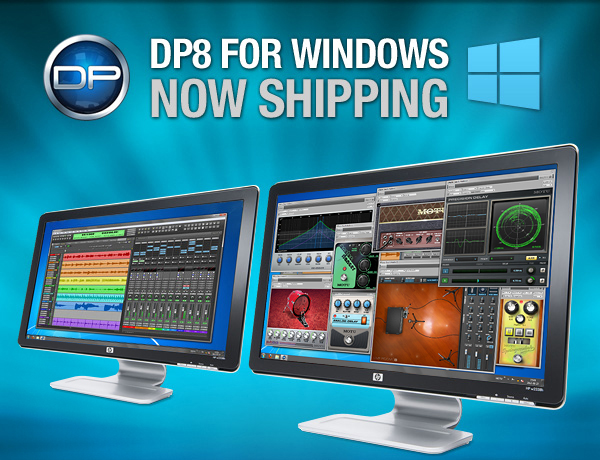 64-bit support
Enjoy 64-bit or 32-bit operation -Today's plug-ins and virtual instruments are incredibly powerful, but they also require massive amounts of memory. Digital Performer's 64-bit support ensures that you can take full advantage of all the memory space in your computer for optimum performance from your MOTU desktop studio.
17 new effects plug-ins
From creative musical effects to precision mastering – From meticulously modeled guitar tones to world-class mastering processors, Digital Performer's 17 new plug-ins add to an astonishing array of over 80 included effects. You get everything from modeled analog EQ to stunningly realistic convolution reverb.
15 new themes
Artistically crafted UI designs to titillate your muse – Other audio sequencer applications give you shades of gray. Digital Performer gives you dozens of artistically crafted user interface themes that completely transform the look of the app. From the whimsical "Hi Fi" to the sinister "None More Black", you can instantly choose a style that fits your mood.
Punch Guard™ confidence recording
Take the stress out of punch-ins – Never again worry about accidentally cutting off the head or tail of that perfect record pass. Digital Performer's new Punch Guard features always captures extra time before and after punch points, so you can simply uncover any additional material with a simple edge edit.
More information on 'what's new' here.