Vestax introduces the VCI-400DJ, a professional 4-channel DJ MIDI controller dedicated to Serato DJ, and based on the acclaimed VCI-400 hardware. The controller will be available as a limited edition, shipped with a free upgrade licence to Serato's flagship pro DJ software, Serato DJ.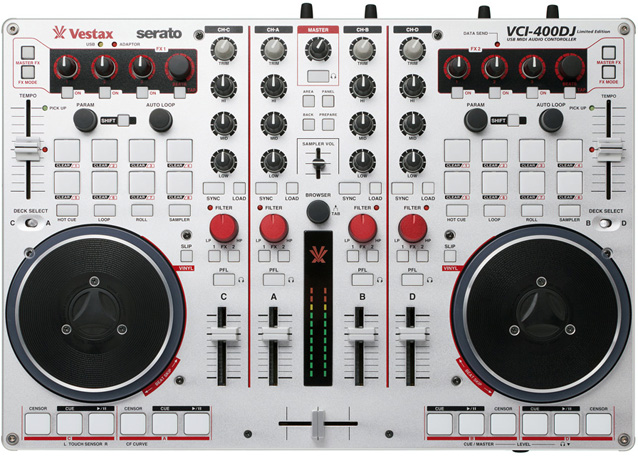 Limited Serato DJ Edition
The VCI-400DJ is the perfect solution for DJs who have been seeking for a premium controller in a robust and compact body. The association with Serato DJ has made the VCI-400DJ the most reliable and intuitive portable DJ controller in it's league.
"The full potential of the VCI-400DJ hardware is fulfilled with the Serato DJ software. We think the VCI-400DJ gets the perfect balance between a premium quality hardware with large user-friendly controls, and a compact and portable unit", says Jerome HENRY, CBO of the Vestax Corporation.
The VCI-400DJ was designed to give long-term durability. The thick aluminium facepanel and die-cast corners provide rigidity to the whole hardware. The large aluminum Filter knobs are also a distinctive Vestax design that has been inherited from previous Vestax quality hardware.
The integrated audio interface uses a studio-grade asynchronous USB streaming system, to provide low-latency, bit-perfect audio at 24-bit / 48 kHz resolution. This audio system combines a XMOS dual-core digital processor with carefully selected analogue components, to deliver clear and powerful sound. In addition, the EQ response of the integrated Stand-alone mixer was shaped from the legendary PMC-55 club mixer.
The VCI-400DJ is available from early July in selected countries as a limited edition. It will come with a free upgrade licence to Serato DJ. A set of blank overlay for DJs who seek to customize MIDI assigns and create their own layout is also included.
Recommended price: 899$, 799€, 699£