Today we get a closer look at the iZotope Iris sampling re-synthesiser VST/AU/RTAS plugin by veteran EDM producer Dom Kane. This instrument is very innovative and in the beginning maybe daunting. So this video will give you a better view and knowledge about the possiblities of this plugin. Dom goes through an overview of the Iris interface and guides us through the use of the various panel controls, and how you can layer and and creat your own unique sounds!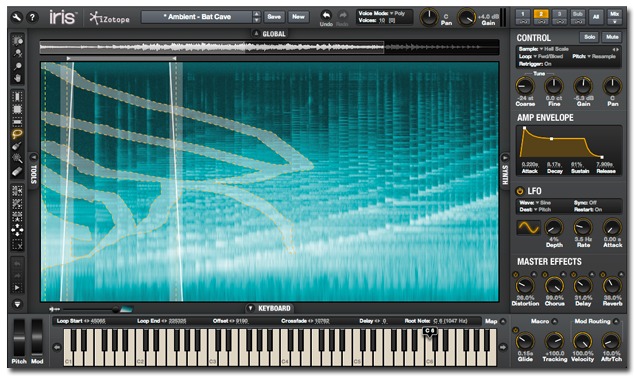 What is iZotope Iris?
iZotope Iris is an innovative sampling re-synthesizer that frees you to create sounds that could never before be produced. Start by dissecting up to three distinctive audio samples, using Iris's spectrogram display and easy selection tools to spotlight the most interesting spectral characteristics. Blend and layer your modified samples, then beef up their impact with a choice of sub oscillator waveforms.
Key Features
• Discover what's inside any sound: Load audio into Iris and explore spectral details that a regular waveform locks away.
• Highlight what intrigues you: Extract and isolate the most interesting sonic components with a full suite of visual selection tools.
• Combine the unthinkable: Layer completely diverse sound sources into totally unique combinations… what do a tattoo needle and a swamp bird and a slot machine sound like together?
• Stay musical: Rely on intelligent root note detection to help shape musical material from noise, ambient textures, soundscapes… even mistakes!
• Enhance and invigorate your sound: Apply world-class iZotope reverbs, distortions and delays, then take advantage of extended synth features like amp envelopes and LFOs.
• Get amazing sounds immediately: Spark your imagination with over 500 patches by world-class sound designers, or design your own with Iris's 4 GB library of diverse sound samples.