Focusrite RedNet is now able to connect with Pro Tools|HD systems. The video below is a clear demonstration on how the two systems can integrate. The RedNet 5 interface will provide as the bridge between the Pro Tools system and the Dante audio network.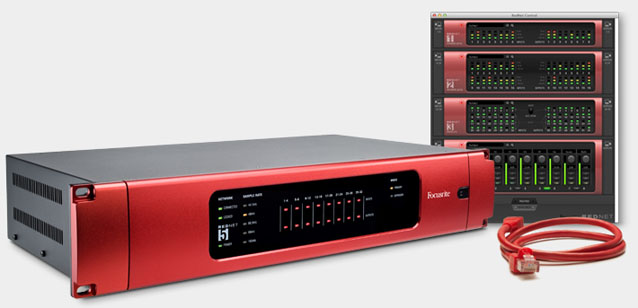 RedNet
This Focusrite's flagship range of modular Dante-based Ethernet network audio interfaces, combines Focusrite's rich heritage of creating great sounding audio hardware with Audinate's robust and reliable Dante Ethernet-based networking protocol. RedNet embodies the company's most advanced A-D / D-A conversion to date, along with rock-solid clocking and premium analogue circuitry.
Focusrite's RedNet 5 interface provides a bridge between Pro Tools|HD and the Dante audio network, behaving just like a standard Pro Tools® interface with each RedNet 5 unit capable of routing 32 input and 32 output channels between the Dante network and your Pro Tools|HD system. Up to six RedNet 5 units can be used with a Pro Tools|HDX system for a full simultaneous 192-channel I/O system. Simply connect RedNet 5 to Pro Tools® with standard DigiLink™ cables or the supplied Mini DigiLink™ adaptor, then add the RedNet I/O interfaces you need to pass high-quality audio around the network with near-zero latencies.