Within a year of the release of the predecessor, Pioneer have announced the DDJ-WeGo 2 dj controller. With minor technical changes, there is one big design change. The controller now has a big handle on the top to carry the controller around more easily. This handle also works as a stand for you iPad tablet. The DDJ-WeGo 2 will be available in three colors, red, black and white.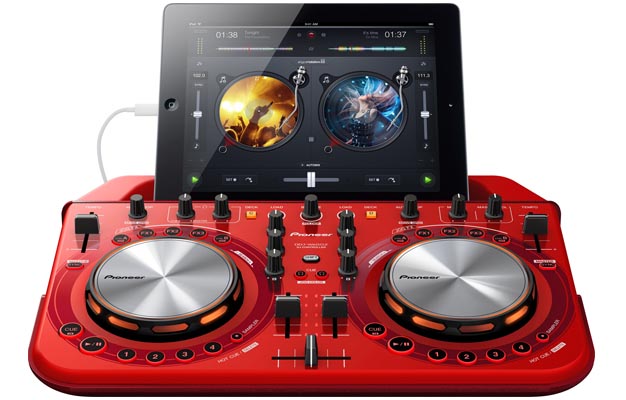 DDJ-WeGo 2
The DDJ-WeGO2 is an ultra-compact DJ Controller that that makes it easy for consumers to learn the DJing essentials by providing users with a simple means of creating cool and unique mixes with their own music collection . Much like its predecessor, the DDJ-WeGO2 offers advanced but easy to use, functions and features that make the art of DJing fun and simple including Jog FX, Pulse Control, multi-color LED illumination, iPhone/iPad/iPod touch compatibility (cable included), Virtual DJ™ Limited Edition DJ software for PC/MAC and additional support for other DJ software such as Algoriddim Inc.'s "djay."
The DDJ-WeGO2 will be available in white, black and red to complement the user's preference taste and color matched to the popular HDJ-500 DJ headphones. The controller also features multi-color LED backlighting for the Jog wheel, and a customizable (color) user interface for the included software.

Compatible DJ Software
The DDJ-WeGO2 is bundled with the "Virtual DJ Limited Edition" software by Atomix Productions (Windows or Mac) that offers a broad range of functions for mixing songs, including making loops and creating samples, and mixing up to four channels for unlimited user creativity and mixes.
The DDJ-WeGO2 has the ability to support other DJ software including Algoriddim "djay 2" and "djay LE (exclusively for Mac®). The "djay LE" software provides many of the same functions as the original "djay" version, with the exception of the Recording and Auto mix functions, and can be downloaded for free from the Algoriddim website.
Main Features
Compact and affordable DJ Controller
Plug & Play w/ bundled Virtual DJ LE Software and Algoriddim's djay LE for Mac (free download)
Pulse Control Provides Visual Prompts of Illuminations
Multi-colored LEDs for customization of lights to match the user's style