Presonus have updated and are now shipping Studio One 2.6, a significant upgrade to the company's award-winning digital audio workstation software for Mac and Windows that adds groundbreaking integration with PreSonus StudioLive AI-series mixers, Nimbit, and SoundCloud and more than 50 other improvements and workflow enhancements.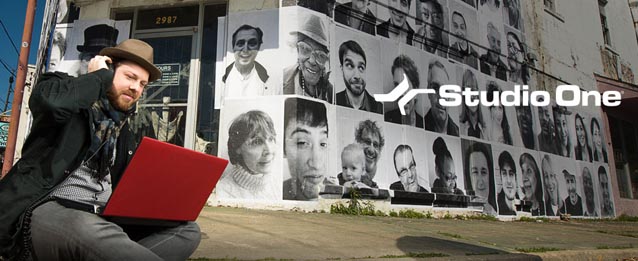 The Big Six in 2.6
StudioLive/Capture mix scene import*
When a Capture 2.1 session is opened in Studio One 2.6, and a StudioLive AI-series mix scene is present, all the fader, pan, mute and Fat Channel settings for each track are automatically imported
Native Fat Channel plug-in*
A new Fat Channel plug-in has been added, which is a native version of the StudioLive AI-series mixer Fat Channel. Fat Channel presets are compatible with their DSP counterparts and can be exported from Studio One to the StudioLive AI mixer via Universal Control.
Nimbit dashboard on Start page*
The Nimbit dashboard on the Start page provides access to up-to-date Nimbit user account statistics (number of fans, number of active promotions, and sales) directly from Studio One. In addition, the user receives help messages on how to engage with fans and customers and boost sales.
SoundCloud dashboard on Start page*
The SoundCloud dashboard on the Start page displays key statistics from a user's SoundCloud account, as well as a scrolling display of the SoundCloud activity stream.
Extended hardware controller support
Extended Mackie Control / HUI integration includes Send slot navigation, Sends support, Control Link mapping, momentary Mute/Solo, Track Edit mode, FX Bypass mode (EQ Button), add insert/send/instrument, plug-in/instrument list and preset list navigation, and more.
SSL Nucleus integration uses Mackie Control protocol. SSL Nucleus has a Studio One template with additional settings and assignments.
Metronome enhancements
Option to record with a precount click.
Visual numerical count-in when you hit the Record button.
Half-beat offset click with adjustable volume and click sample.
Repeat Accent: Repeats accent on time signatures with a third counter.
Added eight new metronome click samples.
Add custom click samples, with drag-and-drop and menu options.
Audio track with rendered click sound.
Click Presets: All metronome settings, including click sounds, can be saved as a preset.
* Not available in Studio One Free.