At the past MusikMesse in Frankfurt Reloop already introduced us to their RMX-80 Digital DJ Mixer. With this mixer Reloop would be attempting to take on the market leader (for club mixers) at that point. And they do have a good weapon for that as the RMX-80 comes loaded with an impressive wealth of features and innovations, staking its claim for the crown among todays choice professional DJ tools.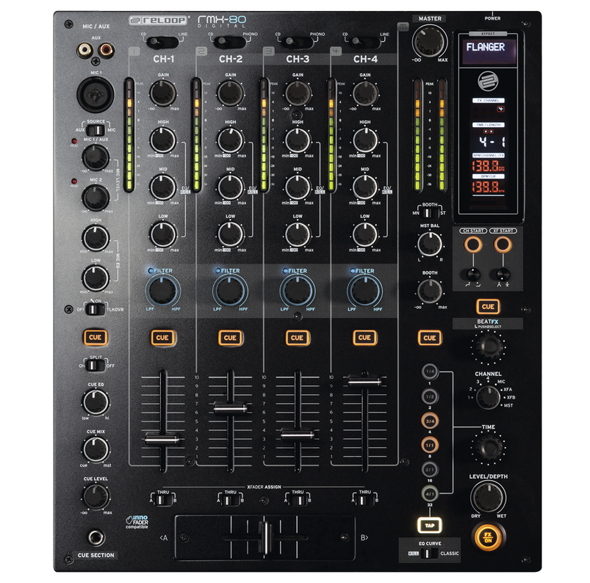 Familiar Achievements
This fully digital mixer powerhouse offers everything a modern professional desires in a DJ-friendly control centre. The mixer surface is laid out clearly, offering intuitive control of the 4+1 channels, a clear terminal panel for up to 9 signal sources, 2 mic inputs with 'active ducking technology', digital effect unit with a large-scale display, 2 headphones outputs with intelligent 1-knob headphones EQ, crossfader assignment, as well as fader and crossfader-start. The bipolar filter section combined with the switchable kill/classic EQ offers unimagined flexibility in the frequency spectrum. Steplessly adjustable fader and crossfader curves allow everything from hard cuts to smooth mixes. Two independent beat counters with 'intelligent tempo detect' complete the RMX-80 Digital.
Fantastic Innovations
The 13 brand-new, high-quality performance effects offer unseen creative potential for extensive live remix sessions. For added credibility, these effects were developed in close cooperation with professional DJs with respect to club suitability. The globally unique time bar buttons allow direct access to effect modulation.
Depending on the selected effect, they serve as trigger buttons for loops, LFO, timing or pitch. The large LCD display shows all of the important information, and provides a clear overview during creative sesions. Reloop has always strived for the consistent development of proven concepts. Consequently, the RMX-80 Digital offers the classic solo cue mode as well as an extended mix cue mode which enables monitoring of several channels at the same time.
Another addition that satisfies the demands of modern DJs is the USB hub which is a unique but essential feature as it counters the usual lack of USB ports on laptops. A further key feature is that the RMX-80 Digital can be adapted to every imaginable performance situation thanks to the extensive setup utility menu. From here, it's possible to individually customize various settings including output zone routing, limiter and talkover threshold, and EQ crossover frequencies.
Premium Quality
The RMX-80 Digital is part of the new Reloop premier line product family, becoming the first choice solution for an affordable state of the art club mixer.
Features
– 4+1 channel performance club mixer
– Fully digital architecture for outstanding sound and flexibility
– Future-proof thanks to innovative, updatable firmware system
– Setup utility mode for extensive control and setting possibilities (master, limiter, solo/mix cue, isolator crossover, talkover threshold, mic-to-booth, cue-to-booth, LED check, factory reset, firmware update)
– 13 high-quality performance effects in studio quality (flanger, delay, echo, reverb, transformer, pitch shift, loop roll, reverse loop, noise, bitcrusher, gate, tape delay, send/return)
– Direct access to effect modulation (trigger, LFO, time, pitch) via time bar buttons
– 2 independent beat counters with 'intelligent tempo detect'
– Large, well-structured LCD display for all important functions
– Bipolar filter per channel
– Adjustable EQ characteristics (kill & classic)
– Fader & crossfader-start
– Innofader compatible
– Mic channel with 2-band EQ & talkover 'active ducking technology' for mic channel
– Intelligent 1-knob equalizer and mono/stereo switch for headphones
– Active 3-way USB hub for additional audio interface or controller
– Individual zone routing
– Symmetrical (XLR) as well as asymmetrical (RCA) outputs