Sample Magic has announced the first update to its 'Magic AB' referencing plugin – the reference tool that allows producers to switch between the audio they are mixing and up to nine reference tracks in an instant.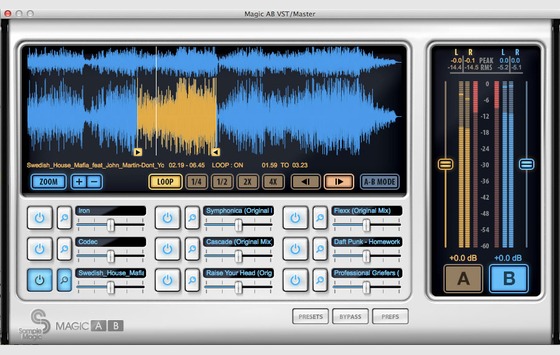 Improvements
The 1.1 update offers a mix of new versions for updated sequencers, user-suggested workflow refinements and fixes.
Specifically:
· Added – Pro Tools 11 support with 64-bit AAX plugin.
· Added – Logic X support with 64-bit AU plugin.
· Added – A-B stream selector buttons now work as a toggle button. Just click either A or B button to toggle between A and B streams.
· Fixed – Sample rate conversion between audio files and DAW session now works on both Mac and PC (no more truncated audio files or unable to load messages).
Free
The update is free to all registered users and can be downloaded by logging into www.samplemagic.com. With A/B referencing playing an essential part in the production, mixing and mastering process, Magic AB offers an infinitely faster, easier and more accurate method to compare multiple audio streams to those available in any DAW or audio editor.
A uniquely powerful utility to aid and speed the mixing and mastering process, Magic AB's controls and ergonomically-designed GUI can be learned in two minutes, and will lead to a lifetime's better mixes. Magic AB is available as an instant download in AU (32- and 64-bit), VST (32- and 64-bit), RTAS and AAX (32- and 64-bit) formats for MacOS and Windows at www.samplemagic.com. RRP £24.90.