Cakewalk have introduced the new Sonar family, which is available from now. SONAR X3 is the biggest upgrade to date and includes new and exciting core workflow enhancements and features like Color Customization, Comping, VST3 Support, ARA integration, Melodyne Essential, Tape Emulator, our revolutionary QuadCurve EQ Zoom & Analyzer, and much more. Plus they've added new effects and instruments including XLN Audio Addictive Drums, Nomad Factory Blue Tubes FX, Lounge Lizard SONAR, and much more.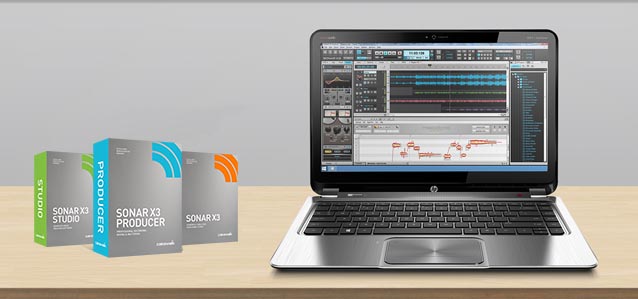 What's Included in SONAR X3
Create music in any style with cutting-edge instruments, effects, and creative tools. Thanks to the award-winning Skylight user interface, SONAR X3 lets you move seamlessly in your production workspace, instantly
going from recording to editing to mixing and back again. Produce flawless tracks with the 64-Bit Double Precision audio engine and upload polished mixes directly to YouTube and SoundCloud. Plus, SONAR X3 lets you do it all without limiting the number of tracks and plugins; all while supporting the latest technologies like VST3, multi-touch, and Gobbler cloud save.
SONAR X3 Studio
Advanced Music Creation Software – SONAR X3 Studio raises the bar with industry leading editing tools like AudioSnap and new Melodyne Essential for the very best vocal editing available. Mixing is now effortless and intuitive thanks to the critically-acclaimed ProChannel console strip – now with the QuadCurve EQ and Softube Saturation Knob included. In addition, the new Studio Mixing Suite introduces 18 vintage, studio-quality FX from the Nomad Factory Blue Tubes Bundle. You also get more instruments like Z3TA+ Classic, Rapture LE, Dimension LE, and much more.
SONAR X3 Producer
Professional Recording, Mixing, and Mastering – SONAR X3 Producer leaves other DAWs in the dust with industry leading features. Edit and correct vocals like a pro with Melodyne Essential. Create the most realistic and authentic drums sounds with the full version of XLN Audio Addictive Drums. Get that epic, pro-sound that has defined the last 25 years of recording with the ProChannel – now with the QuadCurve EQ Zoom and analyzer for the ultimate precision. Get that vintage analog sound with the new ProChannel Tape Emulator and the Console Emulator. And it doesn't stop there with a new mixing suite powered by the Nomad Factory Blue Tubes FX and BlueVerb, Tone2 BiFilter 2, AAS Lounge Lizard Session, AAS Strum Acoustic Session, Dimension Pro, Rapture, and much more.
Check the features of the individual versions here | Sonar X3 Upgrades