The Producertech team are excited to announce the first of many live teaching events, starting in November with 2 Ableton Live weekends by certified trainer Rob Jones. These weekends, one for Beginners and one for Advanced level users, include 2 full days of training on Ableton software and music production in general, as well as instruction on Ableton's control surface Push, free online courses and £100 worth of samples from Loopmasters.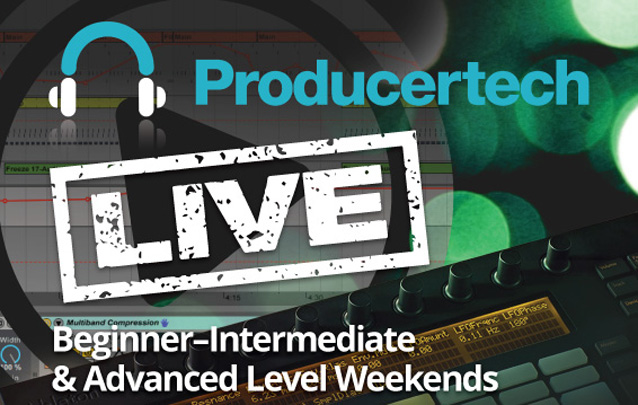 Echoplex Studio Complex
Located in Producertech's new UK headquarters, the Echoplex Studio complex in Eastbourne, these events allow students the opportunity to interact directly with certified trainer and online course creator Rob Jones, while he teaches the ins and outs of Live in detail to a class of no more than 16 people. Throughout the day, there will be exercises set, which students can carry out on the provided workstations or their own laptops, along with in-depth group and one-to-one mentoring to maximize students' experiences and learning.
The first weekend, for beginner-intermediate level users will cover all of the basics of producing with Live, right from the very start. Each area will be explained comprehensively and some more complex aspects like envelopes and modulation will be introduced, so both someone starting out and those with a little experience already are suitable attendees.
The second weekend then goes deeper into mixing and sound design, looking at more technical aspects of producing and performing, to take a student's skills to the next level, and is suitable for someone who has been using Live for some time and has a reasonable grasp on this amazing software.
Ableton's control surface Push will also be shown, so that students can see a first-hand demonstration and have an improved understanding of how it works. There will also be some demonstrations of recent hardware releases from Producertech's sponsors Focusrite, Novation and KRK.
Every attendee will be given an online course from Producertech – the level 1 (Beginners) course for attendees of the first weekend and the level 2 (Advanced) course for the second weekend. These courses, worth £150, mean that students can continue studying online for as long as they need after the event. Any students who are already signed up to these courses will be allowed access to other Producertech courses, such as Paul Maddox's Tech House and Techno course, up to the same value, free of charge. Furthermore, Loopmasters are kindly supplying all students with a voucher for £100 worth of sample packs of your choosing, from their enormous library of high quality samples!
Sign up today by emailing rob@producertech.com, to reserve one of only 16 places…
Info
These weekends, one for Beginners (16th-17th Nov) and one for Advanced level users (23rd-24th Nov), include:
* 2 full days of software/production training with a certified trainer
* Instruction on Ableton's Push control surface
* Free access to Live-Courses.com online level 1 or 2 (worth £150)
* £100 voucher for Loopmasters samples supplied to every attendee
* Evening's entertainment of Live DJs and Performers
* Additional demos of recent Focusrite/Novation hardware releases
These limited availability events (only 16 places available) will take place in Producertech's new UK headquarters, the Echoplex Studio complex in Eastbourne, East Sussex, and are priced at £295 per weekend.
Online Courses
Of course not everyone will be able to get to the UK for these great weekends. However together with Producertech we are able to offer you a discount for the online courses. With discount code: GEAR20 you'll get a 20% discount.