Well, … it took Ohm Force a while, but the wait is finally over. Ohm Studio is here! This collaboration application for musicians and producers is the only pro-grade DAW that allows for online cloud-based collaboration – a technical challenge that explains why it took so long and why Ohm Studio is the only DAW to offer online collaboration to date.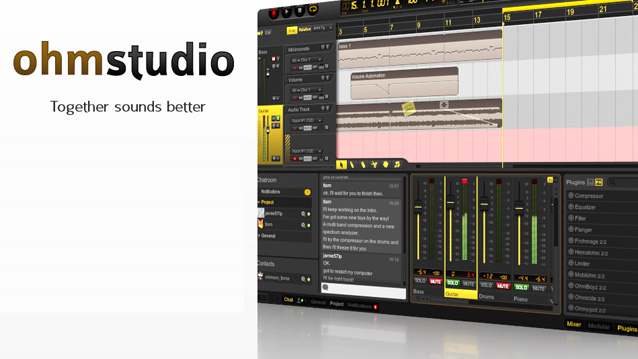 Ohmstudio
As opposed to other DAWs that culturally promote the idea that one guy can do it all, Ohm Force understands that the music most people listen to is very rarely made by one person alone. In this age of the Internet, having access to a world of talented people to do instrument recording, arranging, producing will be brought back to the core experience of computer music making. Collaborative features as well as a UI with a gentle learning curve and pro-grade audio performance complete the approach that sums up Ohm Studio.
Record, create, edit. Make music.
With Ohm Studio, you can record audio at high quality. Set up your audio interface, check the I/Os, arm your track(s), prepare your instrument and let's go! Once recorded, your tracks are directly available on the cloud for every member of the project. A rock band can have their raw tracks recorded in no time, every member from their own place, in their own time!
The same is true for MIDI. Choose an instrument – whether it's our UVI-powered multi-timbral instrument, some GForce included classic virtual analog, or any of your VST plugins – and record, draw and edit MIDI notes and events. Or let your partners do it for you.
Modular design for creative freedom
Besides the traditional mixer view, you can choose to view racks and their plugins in a modular fashion. Connect racks together using virtual cables. The only limit is the number of inputs and outputs of your plugins.
Racks, Plugins, Tracks, Patterns
Sequencing in Ohm Studio is based on a fundamental principle: what is usually known as channel strips on the mixer are called 'Racks' and they contain one or more Plugins. These Plugins – VST or proprietary – ultimately contain Tracks along which audio and MIDI Patterns will be sequenced. This system is powerful in that it allows you to manage multi-timbral MIDI instruments, create complex layers of automation, and more, all the while designing signal flow the way you want it.
Version alternative.
You can get the hi-hat and the snare drum on separate tracks for the same drum patch or you can get that Minimonsta part in the same clip as its filter cut-off automation. Combined with audio/midi clips that support linked instances, ghost looping and trimming, Ohm Studio's logic of arrangement can fit all manner of composing styles.
Complete mixer
Once your tracks are done, mix them using inserts, left-right or mid-side panning and a completely flexible modular routing. If you don't know how to make it sound good, invite a friend or browse the cohmmunity to find a skilled mixing engineer… then simply watch the knobs move and faders slide up and down while the job gets done.
Pricing
Ohm Studio is both a software and a service. You can go for free offers for both, or buy both, or any combination of the two.
Ohm Studio (free) includes a basic production suite, free partner plugins (Hybrit amp sim from Lepou and Voxengo's Old Skool Verb), exclusive UVI-made Ohm Studio multi-instrument (with 1.5 Gb of sounds), Frohmage filter and all of the Ohm Studio features with two exceptions: recording is limited to 16 bits and export to high quality compressed audio.
Ohm Studio Pro (€39 euro zone, ~$42 everywhere else) includes all of this, gets rid of the two limitations and also includes industry standards OhmBoyz delay and Minimonsta synth.
Ohm Studio Pro XXL (€99 euro zone, ~$107 everywhere else) includes everything from the pro version plus Ohmicide distortion, Quad Frohmage filterbank, Predatohm distortion, Hematohm frequency shifter, Ohmygod! comb filter, Mobilohm phaser and Oddity synth.
On the service side users can choose to pay a monthly fee to take advantage of a comfortable project and asset storage space, or stay with the 10 free projects. Creating, joining, or being a member of a given project will all use 1 project credit.
Download free application or purchase directly. Click here to learn more about pricing.
[Ohm Force Instruments and Plugins]