SmithsonMartin today introduced the world's most advanced DJ performance system, called Emulator ELITE. This new touch controller launches for VIP pre-orders today. Mind you, like the name implies, Elite will only be available for sale as an exclusive pre-order to previous customers and VIP artists!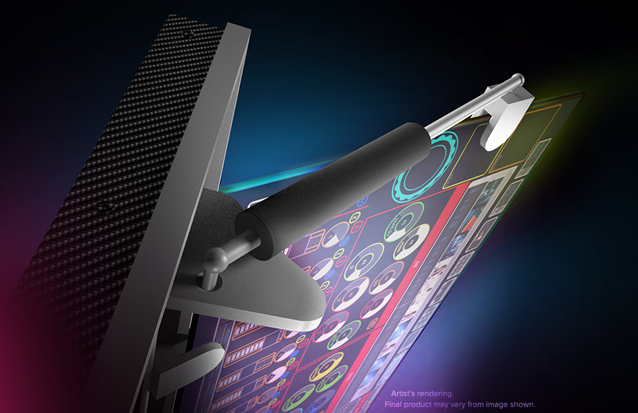 Emulator Elite
Like something out of Star Trek or Minority Report, a large, transparent touch screen, is the buzz of the electronic music industry today as it goes on sale to an exclusive list of top DJs and VIP customers around the planet.
SmithsonMartin Inc. has transported ten years into the future with their invention. The Emulator ELITE engages the audience with a direct view to the DJ's actions. It also allows the DJ performer to send the audience messages, control light shows, and connect with their fans in a way never before imagined. From displays of the audience's live tweets to sophisticated digital art visualizations, Emulator ELITE takes DJ performance to a futuristic and dynamic visual spectacle of creative live music expression.
"Emulator ELITE is the culmination of six years and over $1M in research and development. We have spent the past nine months in the lab perfecting the hardware and software to give performers a new tool that will set them apart from all others." Commented CEO Alan Smithson.
"The ELITE builds on the foundation of our Emulator Dual View System (DVS) with some amazing new features"
Some of these features include; indestructible honeycomb aluminum case design, Full-HD 1920×1080 projector, world-class 24-bit Motu sound card, on-board i7 Mac Mini computer, complete OS X compatibility and custom designed SmithsonMartin PCAP touch screen.
"We set out to make the ultimate performance piece that would attract only the most professional and innovative artists", Mr. Smithson commented further.
Emulator ELITE is not only futuristic in looks, it is the first time DJs, Composers, MCs, and Musicians have a customizable interface from which to show the audience more of their performances. Any image can be incorporated into these templates, including animations to give the interface an even further creative touch.
"Artists now have freedom to create an interface that is both functional as a midi controller and embodies their style in one complete performance system that the crowd can see.", said newly appointed COO, A. Traviss Corry. "Never before has an artist had the ability to show the world exactly what they are doing on their equipment live on stage. The engagement of fans on Twitter, Facebook and YouTube has been overwhelming. We've seen over 150M views of videos featuring Emulator to date."
Pricing and availability
The Emulator ELITE is priced at $15,500 USD. It is not available to the public, pre-orders are by invitation only. Exclusive pre-order of Emulator ELITE will be limited to only 100 units globally and comes with:
Official "Emulator Artist" endorsement featured on Emulator website

Custom "Made For Artist" nameplate with limited number

Featured Artist Mini-Documentary interview video

Custom Emulator software template

Exclusive opportunity to play an Emulator set on the Groove Cruise and save $200

Custom padded protective cover

Emulator Branded V-Moda M-100 headphones

StudioFeed SubPac M1

Free shipping anywhere in North America.