In a market totally in the hands by the iOS platform by Apple, Mixvibes took on the challenge and created the world's first Pro DJ app for the Android platform. "Our users kept complaining that there was no decent DJ app on Android. So we started thinking: Hey, why not bringing our expertise in pro DJ software to this platform?" says CEO Eric Guez.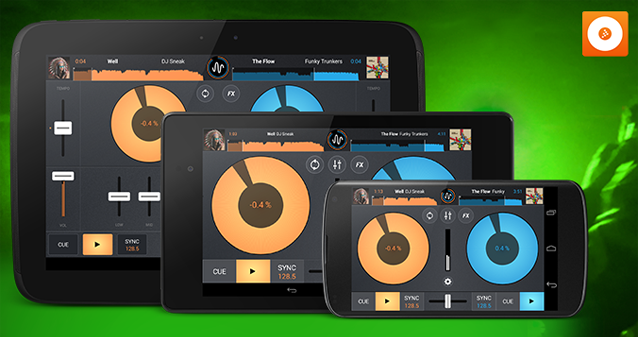 Cross DJ for Android
A few months later, after having overcome many technical limitations, Cross DJ is the world's first Android app that offers pro DJ tools in an intuitive design.
Mix tracks in perfect sync
Cross DJ detects the BPM of your tracks, right down to the last decimal. Why? Because it has the same engine as its desktop version. Sync your tracks once, and they'll never go out of phase. You can tell by looking at the parallel waveforms, to visually check if your tracks are synced. Also, if needed, you may manually adjust the pitch & pitch bend. And if you're into complete customization of your tracks, you can edit the downbeat with just one press of a button.
Exclusive Quantize mode
Eric Guez says: "We know from experience that mixing on a small screen can be tricky. That's why in addition to having optimized the app for 4", 7" & 10" screens we introduced an exclusive Quantize mode. It basically keeps on the beat all the actions you perform." Set a hot cue or a loop, and Cross DJ puts it automatically on the beat. This also works with the peakview waveform. Fastforward with just a touch: the music goes on seamlessly.
Outstanding audio performance
Cross DJ for Android stretches the boundaries of audio on Android. With its incredible low latency, music instantly reacts to your actions. To test how good it is, try the scratch feature and hear its extremely realistic sound. Another nice example is that there is virtually no loading time when startingup the app.
Complete DJ system
The app replicates the industry standard DJ setup: 2 decks, 1 crossfader and a fullfledged 3band EQ mixer. Tweak your sound with 15 awesome effects, just by swiping on large effect pads. Remix your tracks with 16 hot cues pads. As Eric Guez states, "Cross DJ is the easiest way to start DJing. When you step up to regular decks, you are already familiar with the industry standard layout."
Access your music and record
Direct access to your device's music, with multiple sorting options (title, artist, album, BPM or length). Record your mix for an unlimited time, and save it in high quality. Edit your mix info, share it or remix it directly within the app.
Tech specs
● Accurate BPM detection
● Sync button: onepress, and the 2 tracks never go out of phase.
● Manual pitch & pitch bend.
● Set master downbeat, to make sure that your old tracks sync correctly.
● Parallel waveforms mode to visually check if your tracks are synced.
● New Quantize feature: hot cues and loops are automatically set on the beat.
● Smartseek: Tap on the waveform to fastforward & get a seamless jump.
● Low latency: music reacts instantly to your actions.
● Extremely realistic scratch sound.
● 15 effects (Bifilter, Lowpass, HiPass, Delay, Echo, Phaser, Flanger, Bliss, Brake, Roll, etc.)
● No loading time when startingup the app.
● 2 turntables, crossfader, fullfledged 3band EQ mixer.
● Direct access to your music: mix your device's MP3s, AAC and more.
● Sort your library by title, artist, album, BPM or length.
● Large control pads: XY effect pad, 16 hot cues pads.
● Auto loops (1/32 to 32 beats) and slip mode loops
● HQ live recording of your mixes.
● Optimized for display on 4", 7" & 10" devices.
Minimum configuration required
● Android 4.1
● Android 4.3 for recording
● 4″ screen
● RAM: 1GB
● Dualcore processor
Pricing and availability
3.99 € / $4.99 / £3.29 for full version. Unlimited playtime, no ads, no additional inapp purchases.
The app is optimized for multiple screensizes, and has a mobile and tablet layout.