Artists have been able to collaborate by emailing song ideas back and forth for some time now. But in this age of cloud storage and sharing, collaboration is easier than ever before. Now SONAR X3 users can share, backup, store, and save their work right from the Control Bar using Gobbler. Email projects without having to quit SONAR, or even switch on Gobbler's auto-backup feature so that projects save in the background. Gobbler is easy to use and does not require any additional installation thanks to the deep integration that SONAR X3 brings to the table. SONAR X3, SONAR X3 Studio, and SONAR X3 Producer users all have the ability to take advantage of this incredible tool.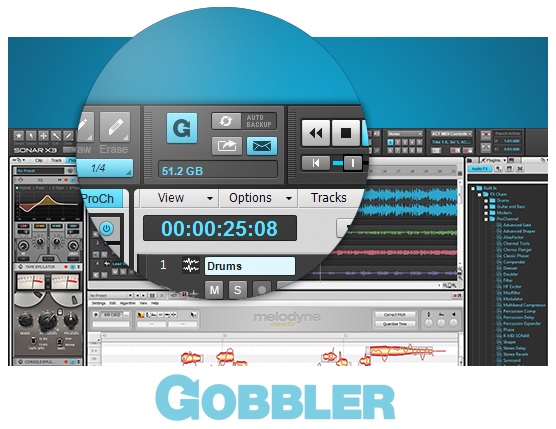 What is Gobbler?
It is a cloud platform built specifically for the creative workflow. It's awesome, and here's why:
Gobbler intelligently backs up, transfers, and organizes all your audio projects;
Built specifically for musicians, by musicians; founded in Hollywood, CA in 2010;
Compatible with every major DAW;
Over 100,000 users in 120 countries (including Dave Pensado, John Legend, Howie Weinberg, & Richie Hawtin)
Integrated into Pro Tools, Soundcloud, and SONAR X3.
Benefits
Cloud collaboration has become the new standard within today's music industry. Before this, artists, engineers, and producers would collaborate through the mail and other various delivery systems. Here are 8 reasons why collaborating with Gobbler is awesome for musicians.
Bonus 20GB of Gobbler storage free with SONAR X3
Buy any version of SONAR X3 before December 31, 2013 and get a bonus 20GB of Gobbler storage for 6 months. All SONAR X3 customers qualify for a free Gobbler account with 5GB of storage to use as long as they like. Early adopters will receive a code that will entitle the user to a free 6-month 20GB boost (total 25GB for 6 months). No credit card required. Learn more.