This week IK Multimedia introduced the first and only range of professional compact MIDI controllers for iPhone, iPad, iPod touch and Mac/PC. The iRig KEYS family of pro MIDI keyboard controllers includes iRig KEYS PRO and iRig KEYS with Lightning — both of which are designed for portability and playability. Each model has 37 velocity-sensitive keys (3 octaves plus 1), enough for comfortable two-handed playing.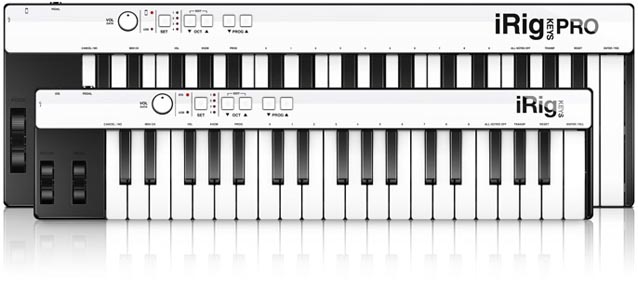 iRig Keys Series
iRig KEYS PRO has full-sized keys, and is the smallest full-sized-key controller on the market that can be played with two hands. iRig KEYS with Lightning features mini keys, and is small enough to easily fit in a backpack or carry-on bag. Both models feature Lightning and 30-pin iOS connectivity, and are compatible with the latest generation of iOS devices, as well as legacy models. They're also compatible with Mac or PC via USB. Connecting cables for all three formats are included with the keyboard.
iRig KEYS PRO and iRig KEYS with Lightning are both equipped with an identical set of pro performance features including pitch-bend and mod wheels, an assignable data knob, lighted buttons for program and octave up/down, 4 programmable "Sets" (user presets), for storing custom setups, and an expansion jack for connecting expression or sustain pedals (not included).
A selection of MIDI instrument apps and software is also included with either model, so you can start playing right out of the box.
iRig Keys Pro | iRig Keys with Lightning
Pricing and Availability:
iRig KEYS PRO is priced at $149.99/€119.99 MSRP (excl. tax), and is available now from the IK network of music and electronic retailers around the world and the IK online store. iRig KEYS with Lightning connector is priced at $129.99/€99.99 (excl. tax) and is available now from music and electronics retailers worldwide.