After his first plugin, Kickstart (side-chain plugin), Nicky Romero introduces KICK Synth which has been developed together with Sonic Academy.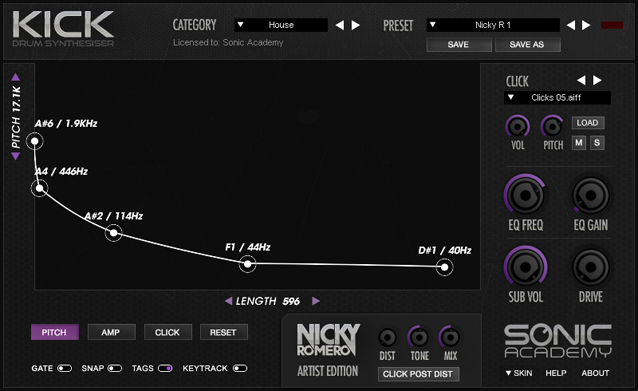 KICK Synth
KICK is a Kick drum synthesiser allowing you to quickly and precisely create kick drums and tune them to your tracks. It combines a synthesised sub oscillator and sampled clicks to create a wide variety of kick drums, percussive and even bass sounds. With Pitch, Amp and Click envelope editors, drive, pitch control and the Nicky Romero designed distortion section
With 175 factory presets and 40 exclusive Nicky Romero presets you can access that special Protocol sound right out of the box. In addition kick comes bundled with 32 Nicky Romero clicks lifted straight from his productions. The user can also load their favourite clicks, kicks, and even fx to create truly unique personal sounding kicks.
Find out more and get your copy now here.