Next Audio Labs is proud to announce the latest release of its flagship Rekord Buddy app. The world's most advanced syncing tool for Rekordbox and Traktor just got better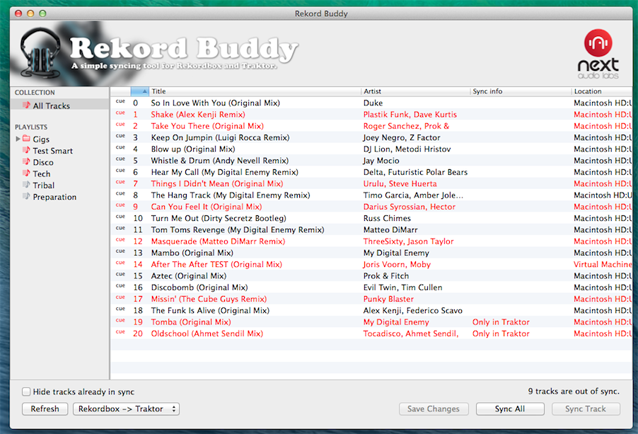 Introducing DirectSync
The most obvious improvement is that Rekord Buddy now syncs directly with your Traktor database. No need to export to an NML file and then re-import the results back, this now happens directly behind the scenes for you.
Of course, Rekord Buddy doesn't generate thing like waveforms and store cover art in Traktor's collection so if you're importing new tracks over from Rekordbox, it's best to import and analyze the tracks in Traktor first (by dropping them into your Traktor collection). This lets Traktor generate the info it needs about the track and you can then sync the rest of the information (meta-data, cue points, beatgrids) over using Rekord Buddy. You only have to 'pre-import' the track once (the first time you add the track to Traktor), after that you're good to go.
Rekordbox also has some nifty features in its latest version (2.2.0), namely the ability to overwrite info about the tracks in its collection with info from the tracks you're importing via the bridge. You should now see a dialog box asking if you want to overwrite the track's info or not on import.
Both these changes make it much easier to sync back and forth between the two programs but it also changes your workflow slightly so make sure you watch the new tutorial videos in the 'Get Help' section to fully understand how this works.