One DJ has reached the next major plateau in development and we are proud to introduce the 1.5 update. One DJ 1.5 has the complete Midi Learn System in place and now offers you mapping on steroids. The advanced yet super-intuitive Midi Learn makes creating even complex custom mappings easy.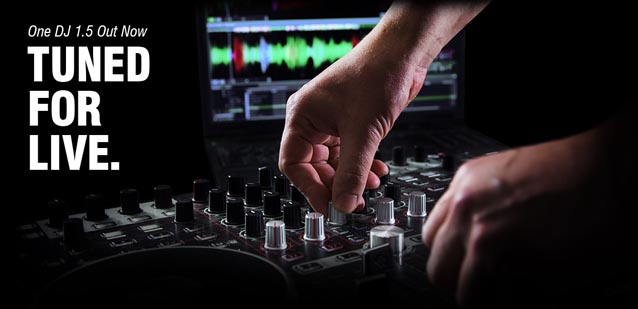 ONE DJ version 1.5
New frequency coded waveform modes have been added with smooth zooming down to sample level. Select your preferred mode and then customize the look for each deck.
The Osx version has seen some major improvements and now performs better in every way. It is more stable, has window re-size option and just overall runs smoother. We have also ironed out bugs related to Osx & different Midi controllers.
Some possible nasty bugs related to audio decoder have been fixed and One DJ is now a reliable tool for performing live. Analyzing of tracks is faster and the size of the analyze file has dropped to fraction of the earlier. Much requested features such as a Limiter in timeline export have been added along with many other tweaks and fixes.
Update is free for all who have purchased One DJ license and can be accessed via Audio Artery License Manager.
New Waveforms
The new "Colored" waveform mode helps to identify individual parts of the audio based on frequency ( e.g. bass, snare, vocals). "Theme" mode includes the same information, but in a more relaxed look as the waveform follows the color set for each deck.
All the waveforms now go down to sample level which helps when tweaking mixes to perfection on the timeline. Waveform modes can be selected individually for each deck and set separately for Timeline Overview and Track waveform. The color saturation can be adjusted with a slider to optimize the look.
Midi Learn Refined
– Left click any control on screen to map.
– Right click the control to open up the mapping for viewing and advanced editing.
Midi learn works with all controls on screen and with all types of Midi messages. Virtual control layers can easily be created and managed in our new midi layer editor; make any control on your controller a "shift" and just simply map controls under it. Support for new DJ controllers have been added and the the current mappings have been updated & refined.