An update to TotalMix FX for iPad is now available on the App Store. Version 1.1 adds a whole bunch of new features, reduced CPU load and improved user experience. The app adds full control over hardware mixer and DSP effects of the supported audio interfaces Fireface UCX, UFX, Babyface and the new Fireface 802, when these devices are in Class Compliant mode (TotalMix for iPad does not work wirelessly, and is therefore no replacement for typical remote software like Lemur or TouchOSC). It also controls hardware settings like sample rate, clock sync configuration or digital I/O formats.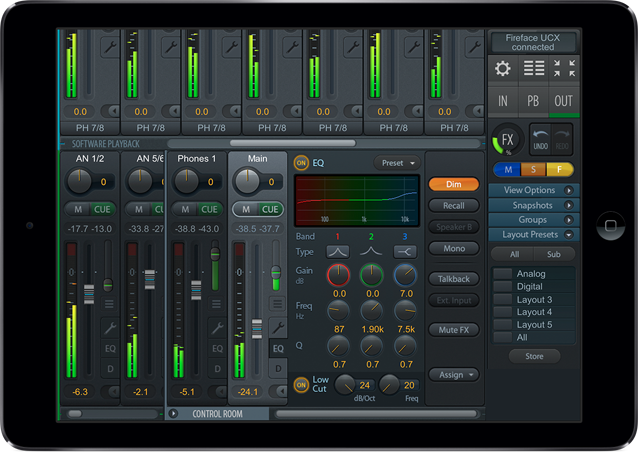 New Features
These include support for the Babyface and Fireface 802, Background Mode with advanced sample rate control, a new 2-Row view mode, quicker level meters, and highly reduced CPU load in display, communication with the hardware and internal operation.
TotalMix FX for iPad runs on any iPad and all iOS versions from 5.0 up, using only few resources. As under Windows and Mac OS X it does not process audio, but acts as remote control for the calculations performed in the hardware. The app is fully compatible even when storing/loading Workspaces. Except MIDI/OSC remote control it includes all features of the desktop version.
Using the Fireface UCX with the iPad, TotalMix FX for iPad unlocks the device's whole functionality, with full overview and lightning fast configuration. For the Fireface UFX the whole functionality is included as well. Even DURec (Direct USB Recording) is fully usable and controllable from the iPad.
TotalMix for iPad benefits from the background audio function in iOS. During ongoing recording and playback the user can switch to TotalMix at any time, to perform the desired settings or changes, then return to the audio app, where record/playback had not been interrupted.
The app includes an extensive help. Continuing information on TotalMix FX and the Class Compliant operation of both devices can be found in the current manuals. These are available for download at www.rme-audio.de, section Download.
For more information about the TotalMix FX App please visit the RME forum: www.rme-audio.de/forum.